Image and Space. Candida Höfer in dialogue with the photography collection of the Art Library Berlin

planned from 24 March - 28 August 2022
A special exhibition of the Kunstbibliothek - National Museums in Berlin
Curated by Ludger Derenthal (Museum of Photography) and Ralph Goertz (IKS PHOTO)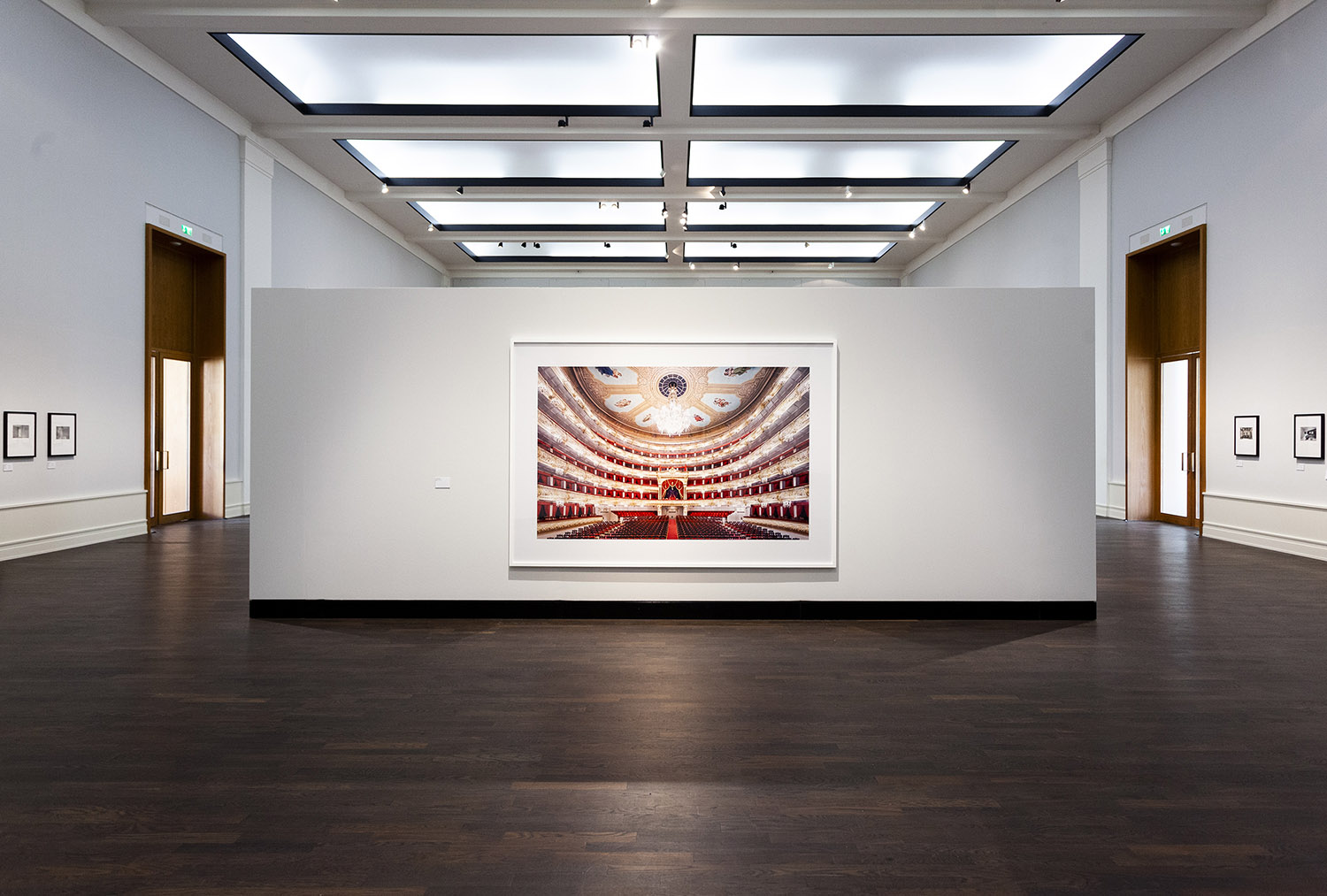 Candida Höfer explores built spaces with her photographs. Her world-famous interiors focus on libraries, museums, restaurants, theatres and other places open to the public, allowing us to experience architecture in a new way. In comparison with photographic interiors from the Art Library's photography collection, which is over 150 years old, a dialogue develops between applied photography and artistic work. The total of around 200 works - which also include photographs from zoological gardens and hitherto little-known series from Höfer's early work as well as their rarely or never before shown counterparts from the Photography Collection - invite visitors to take a new look at Höfer's work and the Photography Collection, but also at the medium of photography itself.
"Fascinating exhibition."
Ingeborg Ruthe, Berliner Zeitung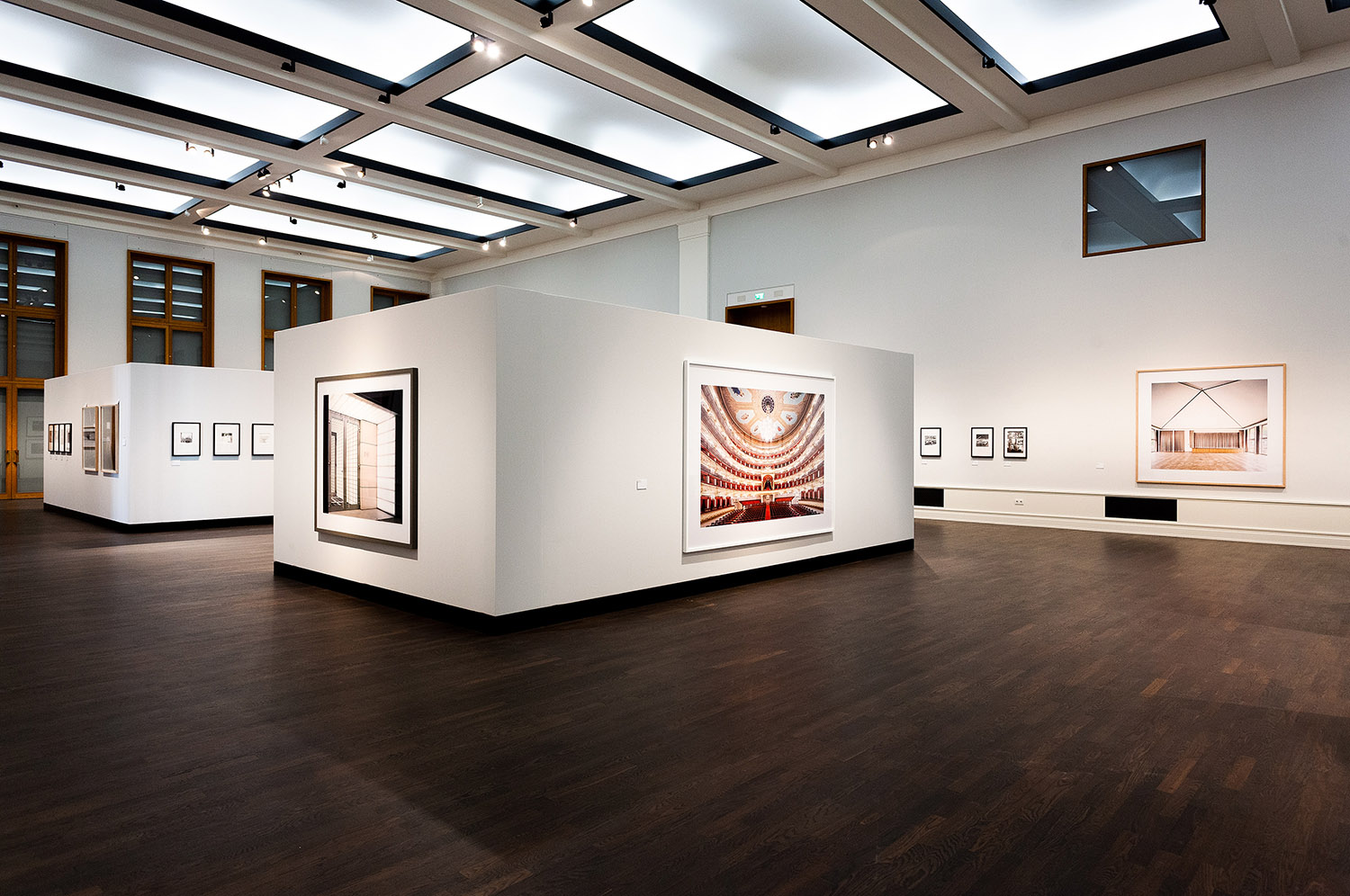 "But the exhibition offers more than this dialogue. It provides insight into the fluid transitions between documentary and artistic photography, reflections on historical change - for example in the aesthetics of museum presentation, which in the 19th century still relied entirely on profusion."
Silke Hennig, rbbKultur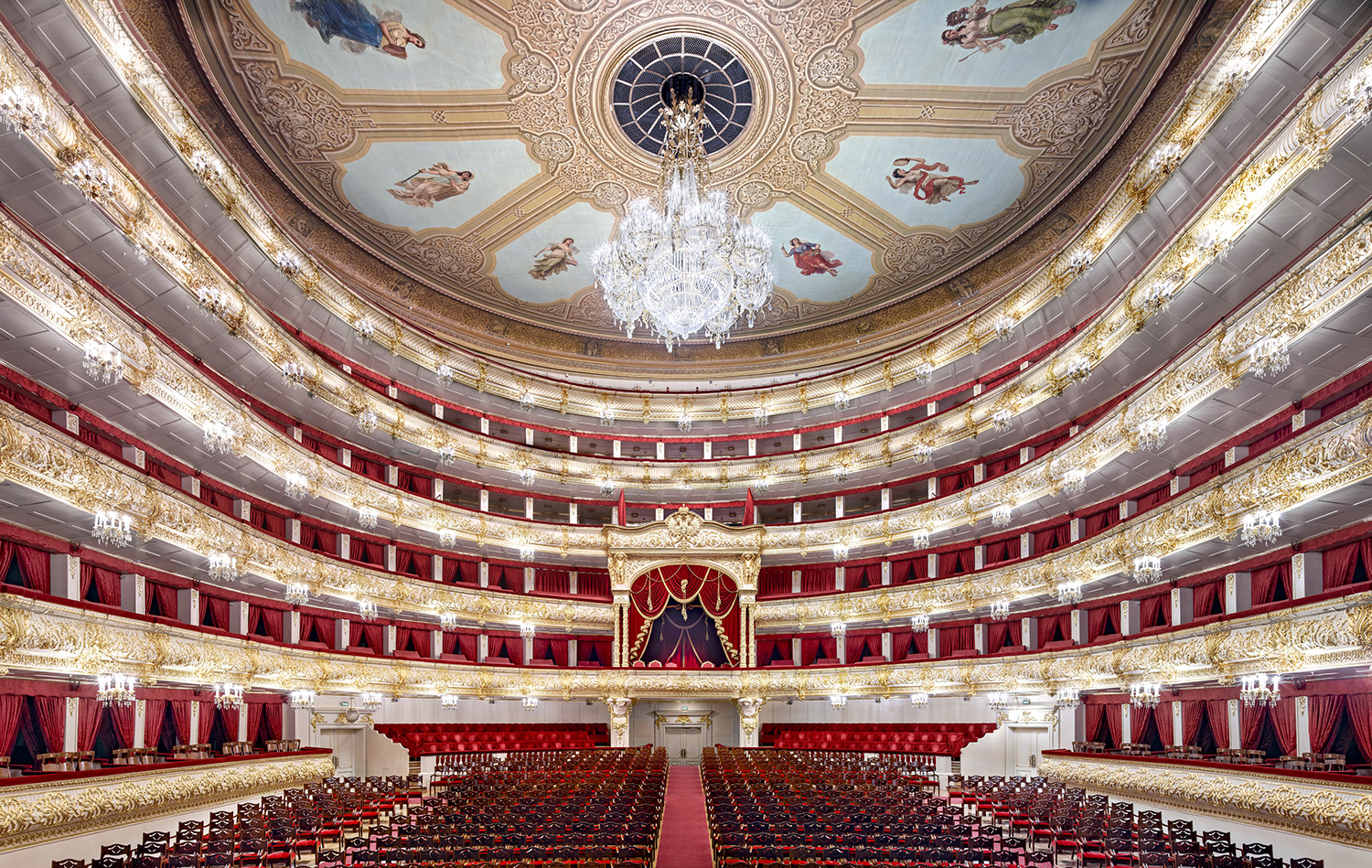 Bolschoi Teatr Moskwa II 2017 © Candida Höfer / VG Bild-Kunst, Bonn 2022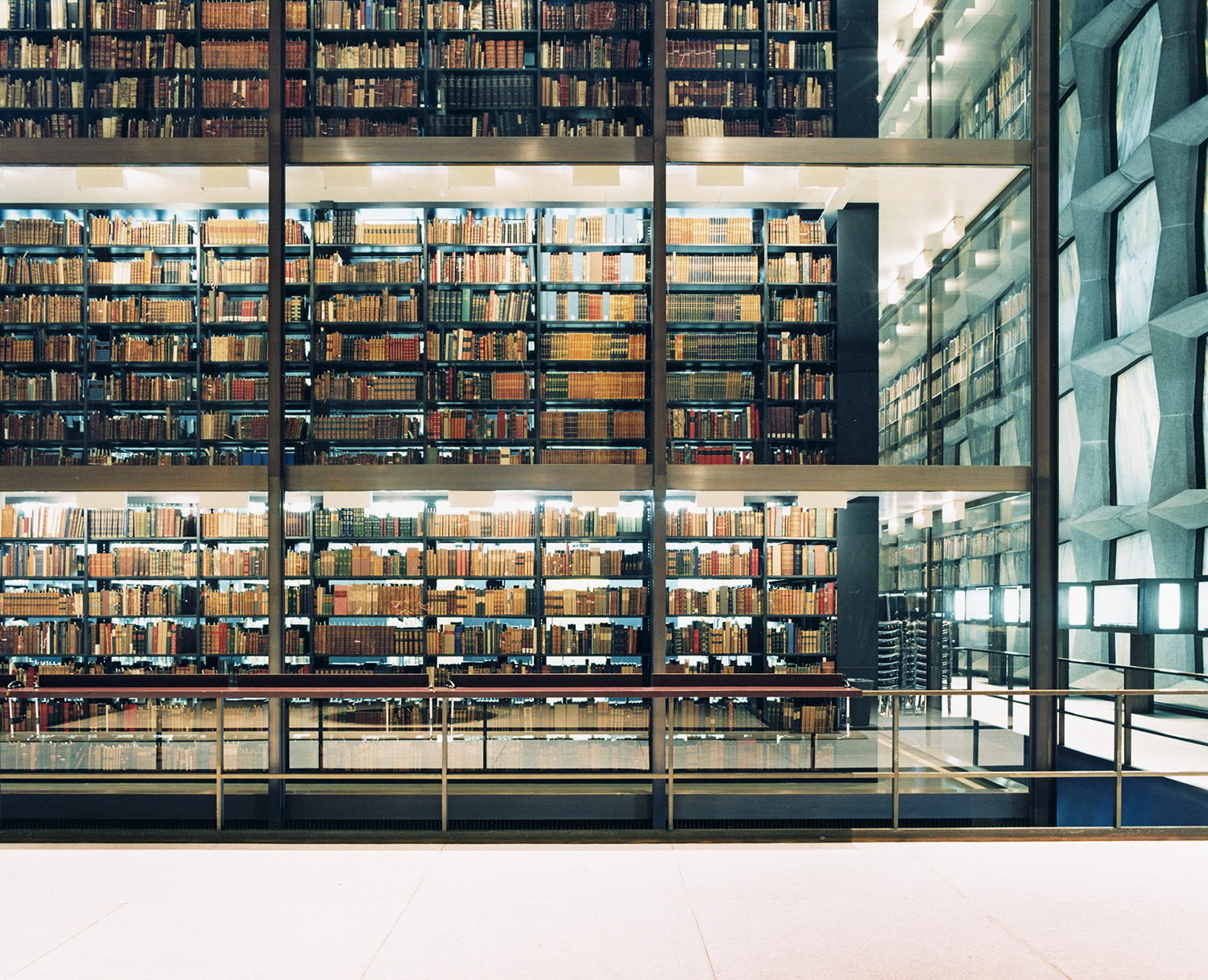 Beinecke Rare Book and Manuscript Library New Haven CT I 2002 © Candida Höfer / VG Bild-Kunst, Bonn 2022
Since studying with Bernd and Hilla Becher at the Düsseldorf Art Academy towards the end of the 1970s, Candida Höfer (* 1944) has devoted herself more and more intensively to architectural photography. She has concentrated on this important genre without, however, working on behalf of architects and art historians as did photographers of earlier generations. She sees her work as artistic photography, and photographing interiors was self-determinedly chosen by her as her main field of activity. She herself set the framework for it:
"I photograph in public and semi-public spaces from different eras. They are spaces that are accessible to everyone. They are places of encounter, communication, knowledge, relaxation, recreation. They are spas, hotels, waiting rooms, museums, libraries, universities, banks, churches and, in recent years, zoos."
Candida Höfer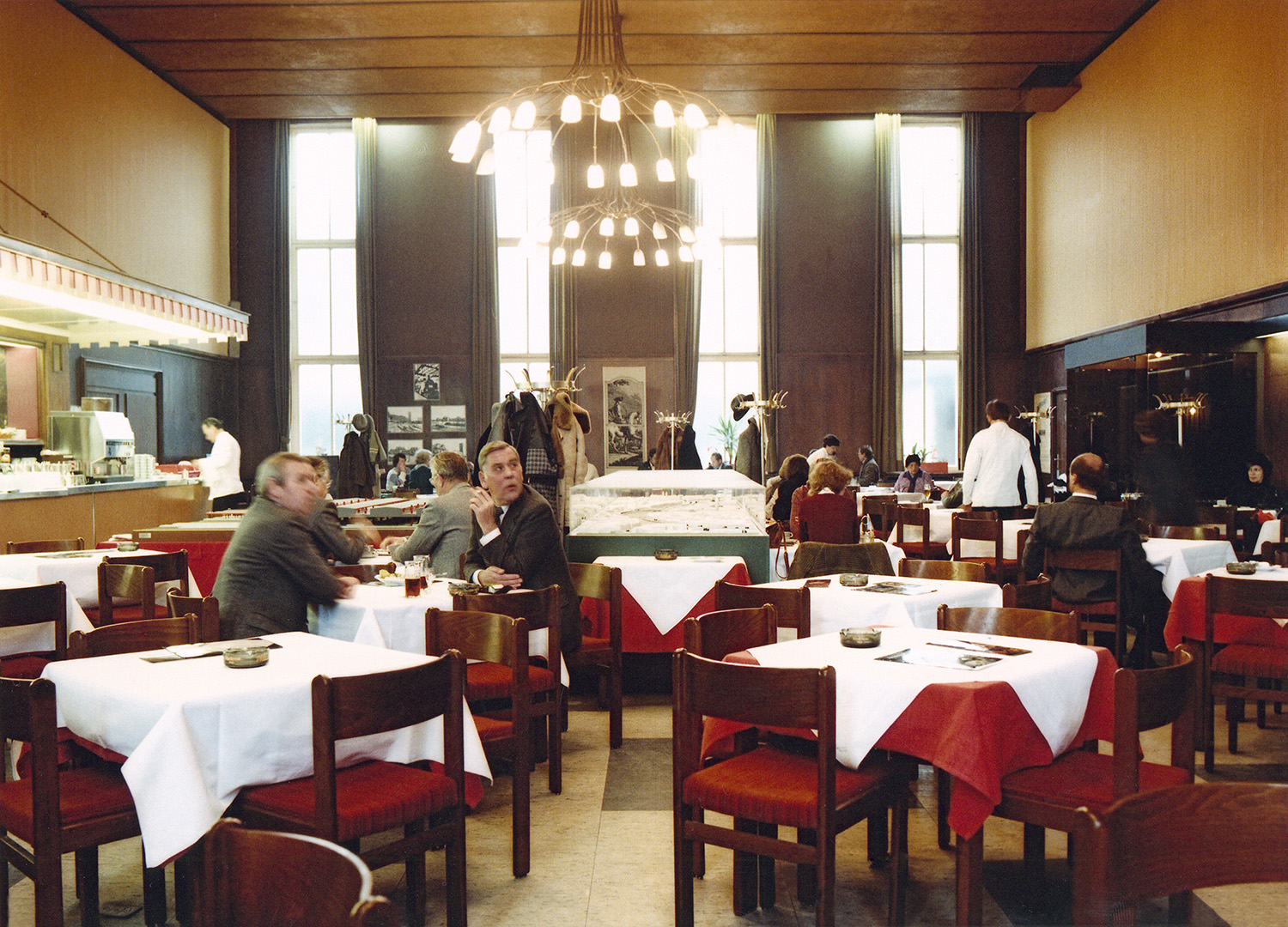 Wartesaal Düsseldorf III 1981 © Candida Höfer / VG Bild-Kunst, Bonn 2022
Zoologischer Garten London III 1992 © Candida Höfer / VG Bild-Kunst, Bonn 2022

This list is not meant to be exhaustive; it refers above all to the communicative functions of the places it records, which are, however, paradoxically shown without the people frequenting them: Candida Höfer demonstrates the qualities or deficiencies of the spaces that make human exchange possible in the architecture itself, in the atmosphere she specifically captures in each case, in the perspective she chooses and the framing of the image. She does not focus on the thematic groups serially; the respective locations determine the picture format as well as the size of the prints. Yet the compilation of the groups offers a variety of possibilities for comparison that impressively confirm the photographer's longstanding and sustained interest in the specific locations.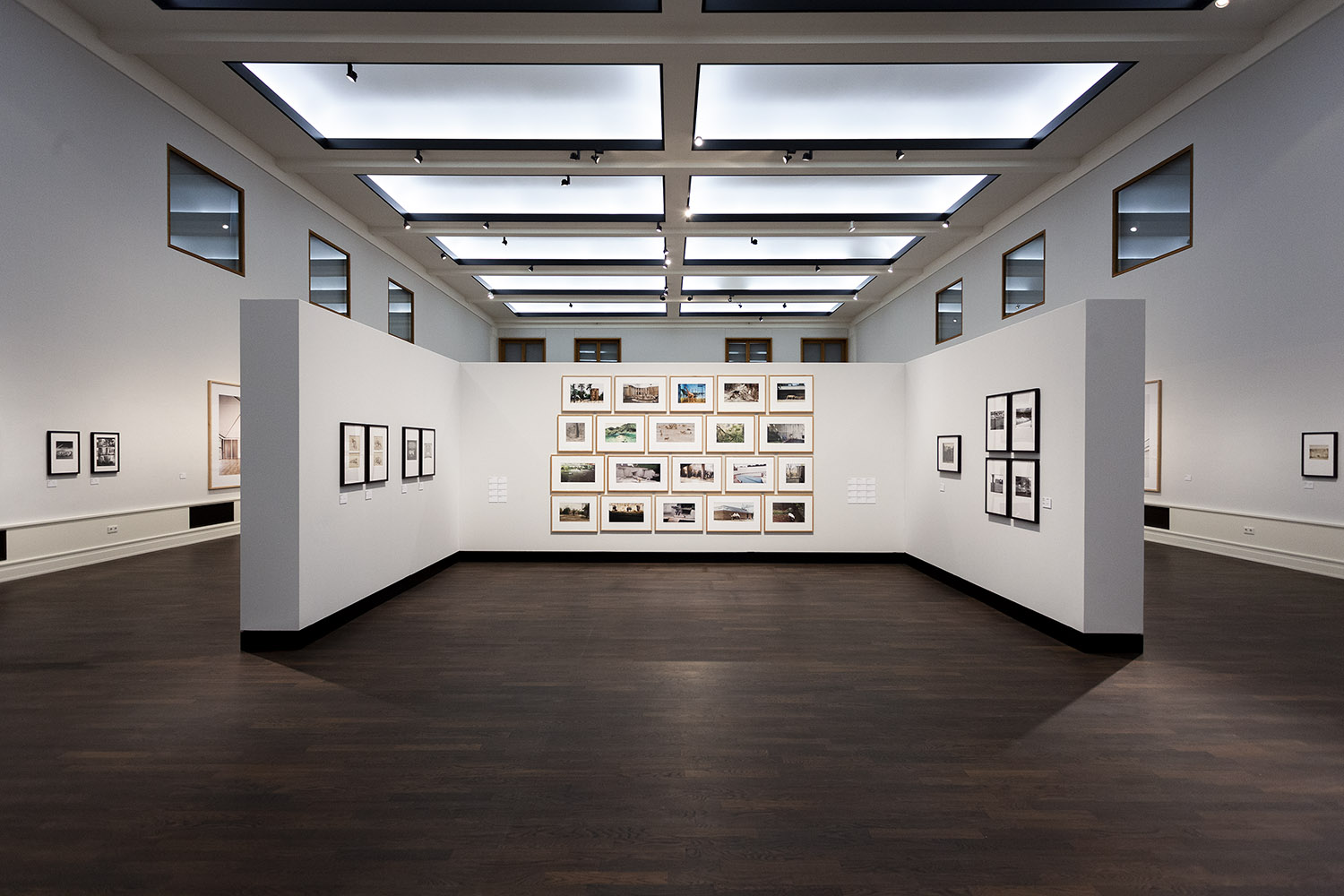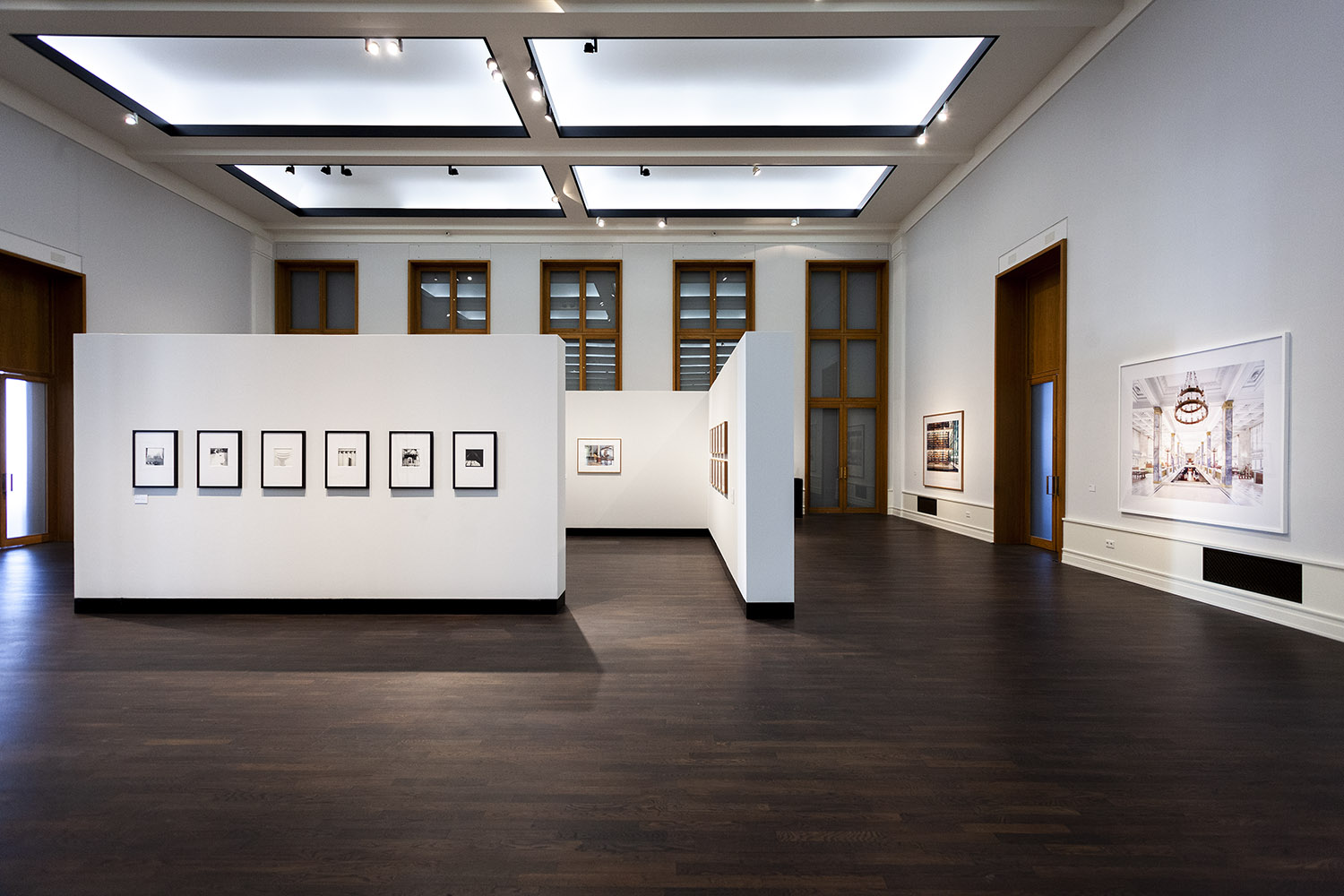 With around 90 works, the special exhibition at the Berlin Museum für Fotografie opens up a broad cross-section of Candida Höfer's photographs of space from 1980 to the immediate present. The long tradition of her architectural photographs, however, also reaches deep into the classical canon of this field of work. In dialogue with counterparts and counter-images from the Kunstbibliothek's photography collection, Höfer's special approach to her pictorial motifs is revealed in a particularly impressive way.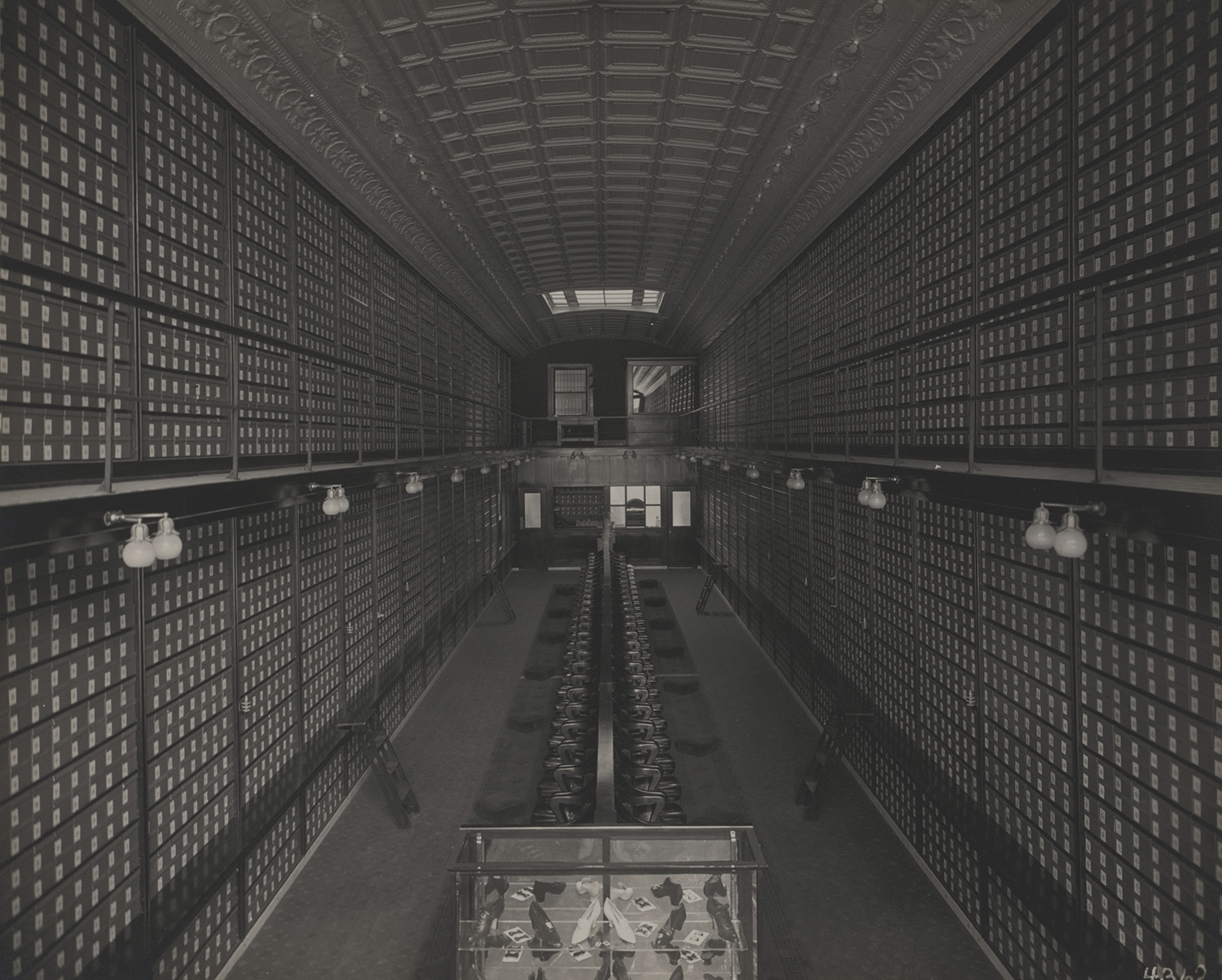 Königlich Preußische Messbildanstalt, Berlin, Neues Museum, Treppenhaus, um 1890, Silbergelatinepapier, © Staatliche Museen zu Berlin, Kunstbibliothek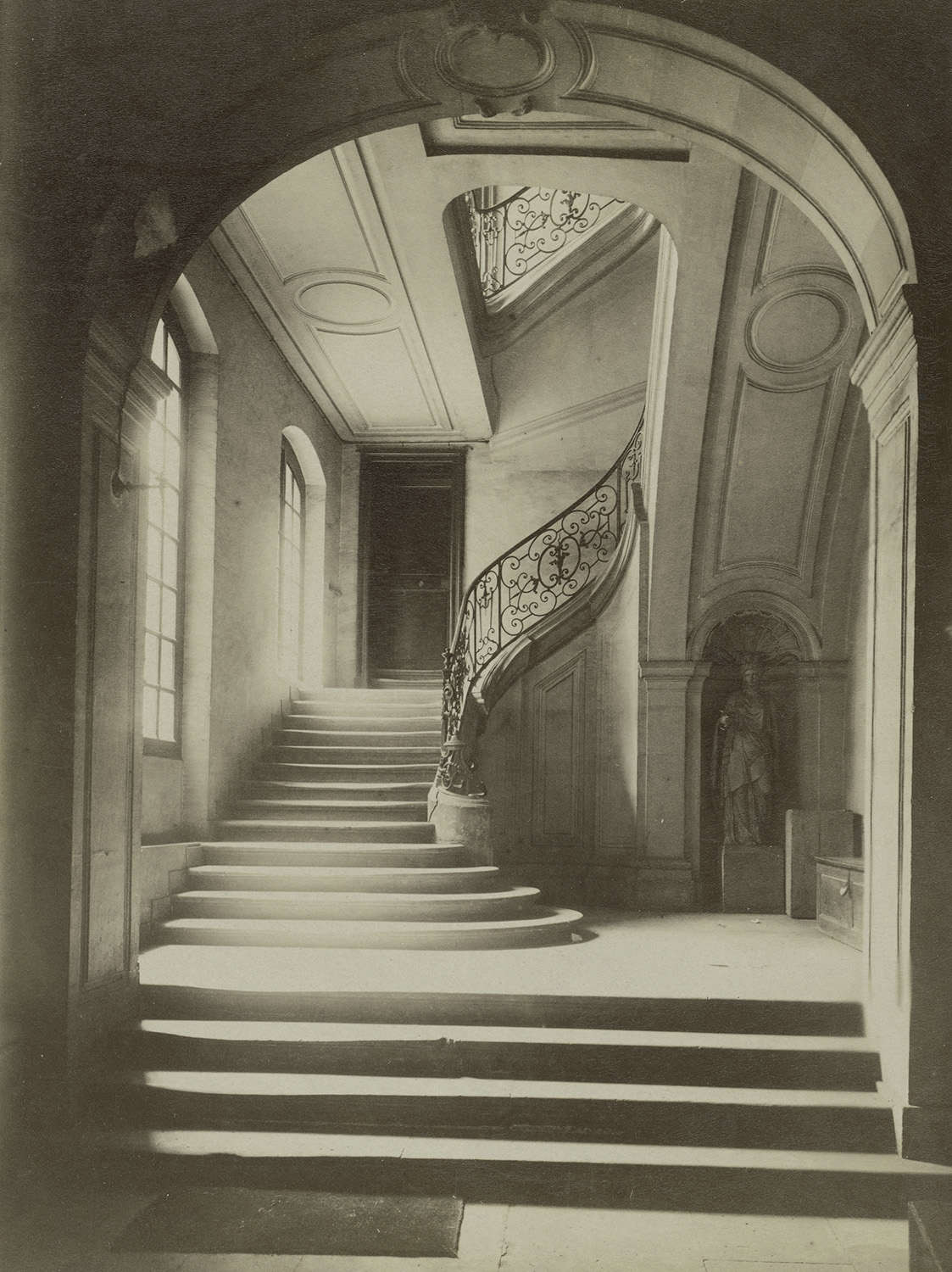 Eugène Atget, Hôtel du Marquis de Lagrange, 4 et 6 rue de Braque, 1901, Albuminpapier, © Staatliche Museen zu Berlin, Kunstbibliothek
For the Photography Collection, architectural photographs formed the basis of her collecting activities. Designed as a collection of models, it was intended to convey to a broad public the special structural qualities of current and historical architecture as precisely and vividly as possible in photographic images in large quantities. In the collection of many tens of thousands of prints, the names of the photographers are not known in most cases. However, through inventories and image comparisons, it has been possible to identify groups of works by important representatives of the field, such as Eugène Atget, Frank Cousins, Samuel Bourne, Fratelli Alinari, Max Krajewsky, Emil Leitner, Felix Alexander Oppenheim, Albert Renger-Patzsch and Karl Hugo Schmölz.
Bourne & Sheperd, Mount Abu, Dilwara Tempel, Innenansicht, 1870-1880, Albuminpapier, © Staatliche Museen zu Berlin, Kunstbibliothek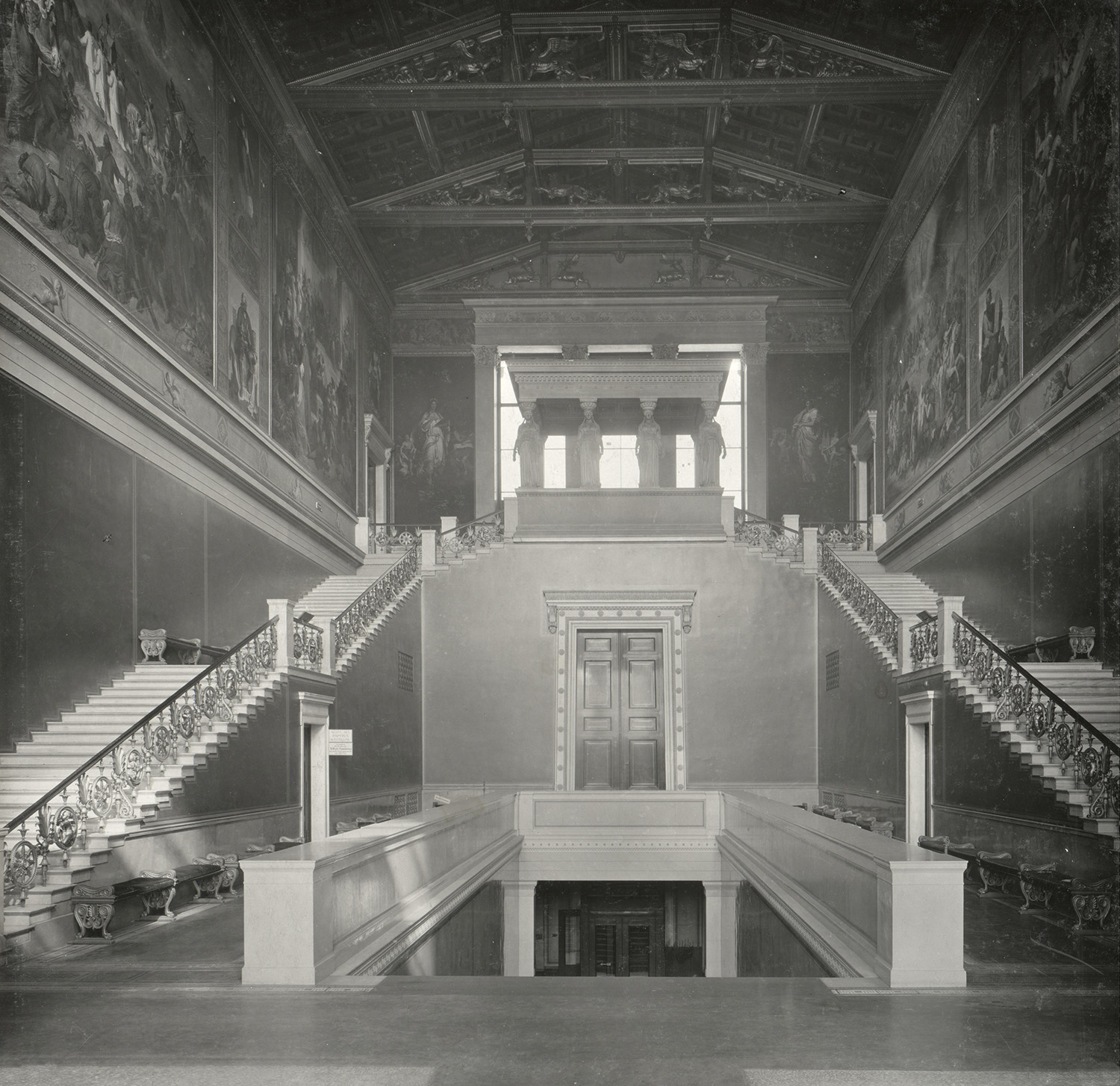 Königlich Preußische Messbildanstalt, Berlin, Neues Museum, Treppenhaus, um 1890, Silbergelatinepapier, © Staatliche Museen zu Berlin, Kunstbibliothek
Some thematic groups exemplify the visually stimulating dialogue of the images: Facades, windows and doors open and close the view into or out of rooms. Candida Höfer exemplifies the theme with two photographs of the Dutch embassy in Berlin. These are complemented by a window picture of the classical avant-garde by Florence Henri or the large-format view from a high-rise building onto the landscape of houses in southern Manhattan by Reiner Leist from 1996. The dialogue between the pictures is particularly attractive in the photographs of Berlin's Museum Island. While the razor-sharp large-format contact prints by the Königlich Preußische Messbildanstalt still show the monumental staircase with Wilhelm von Kaulbach's frescoes, Ryuji Miyamoto in 2000 captures the transitory state of the still ruinous building before the start of the interior work and Candida Höfer again in 2009 shows its completion.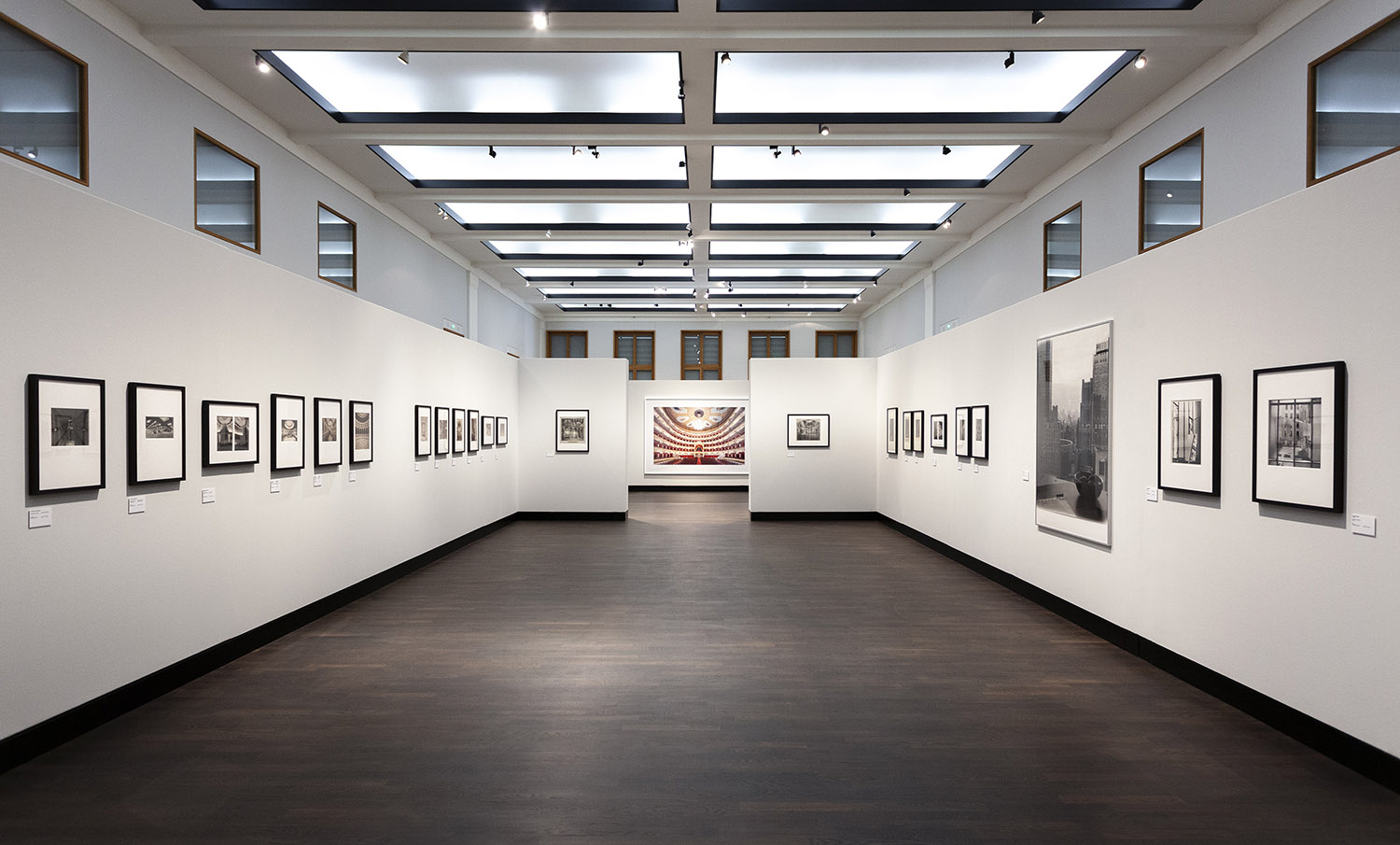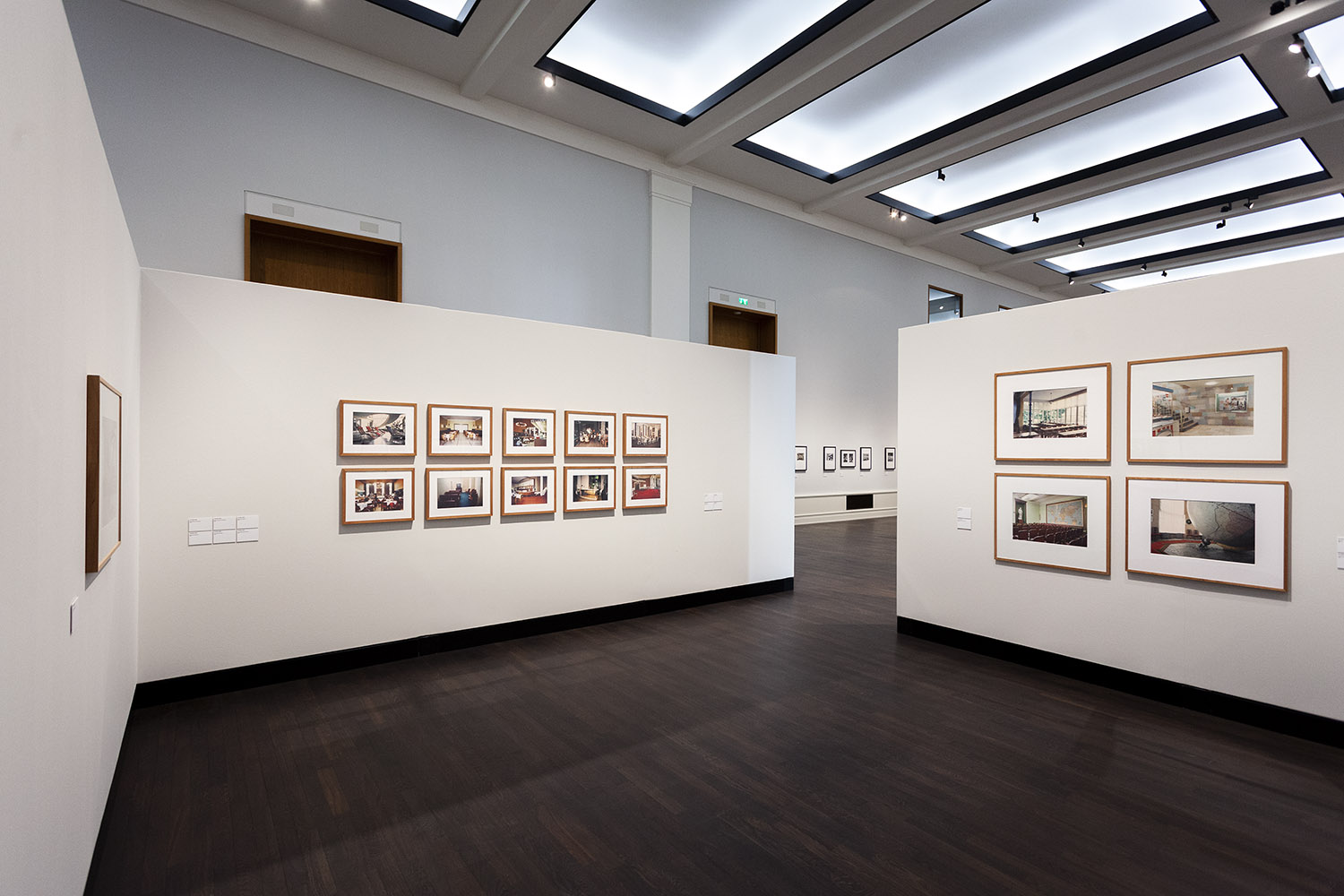 Previously unpublished are Höfer's colour photographs from her Liverpool series of 1968, from which a thread of development can be drawn to her pictures of the guest rooms in cafés, hotels, spas and waiting rooms after 1980. They are brought into conversation with the more journalistically conceived street scenes by Willy Römer and Bernard Larsson, Dirk Alvermann's images of Spanish bar scenes from around 1960, and Helga Paris' photographs of Berlin pubs from the mid-1970s from the Photography Collection.
"The fact that early series such as the shots from Liverpool or the black-and-white series "Köln Weidengasse" from 1975 on the subject of labour migration are on view lends biographical depth to the excellently arranged exhibition."
Bernhard Schulz, Der Tagesspiegel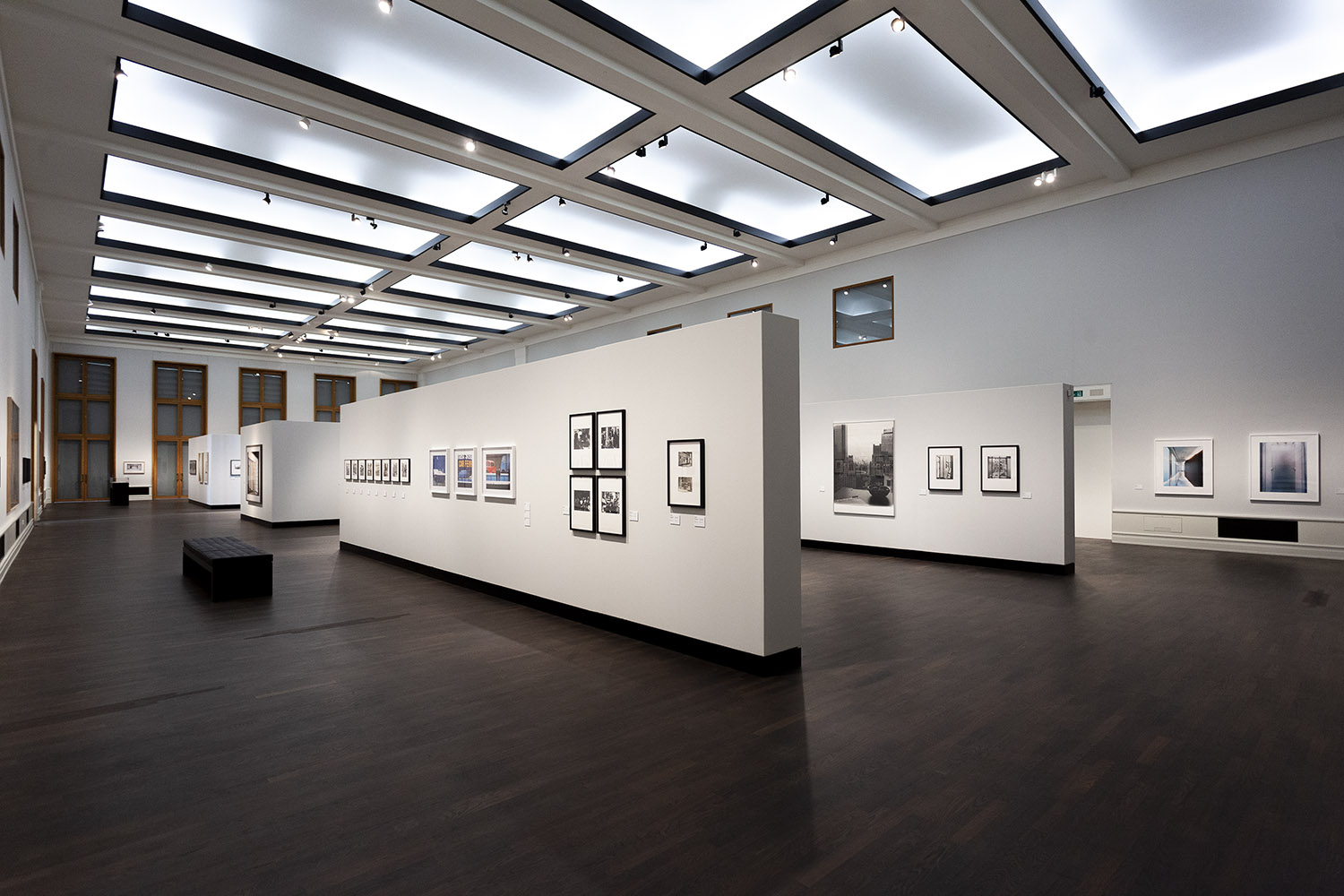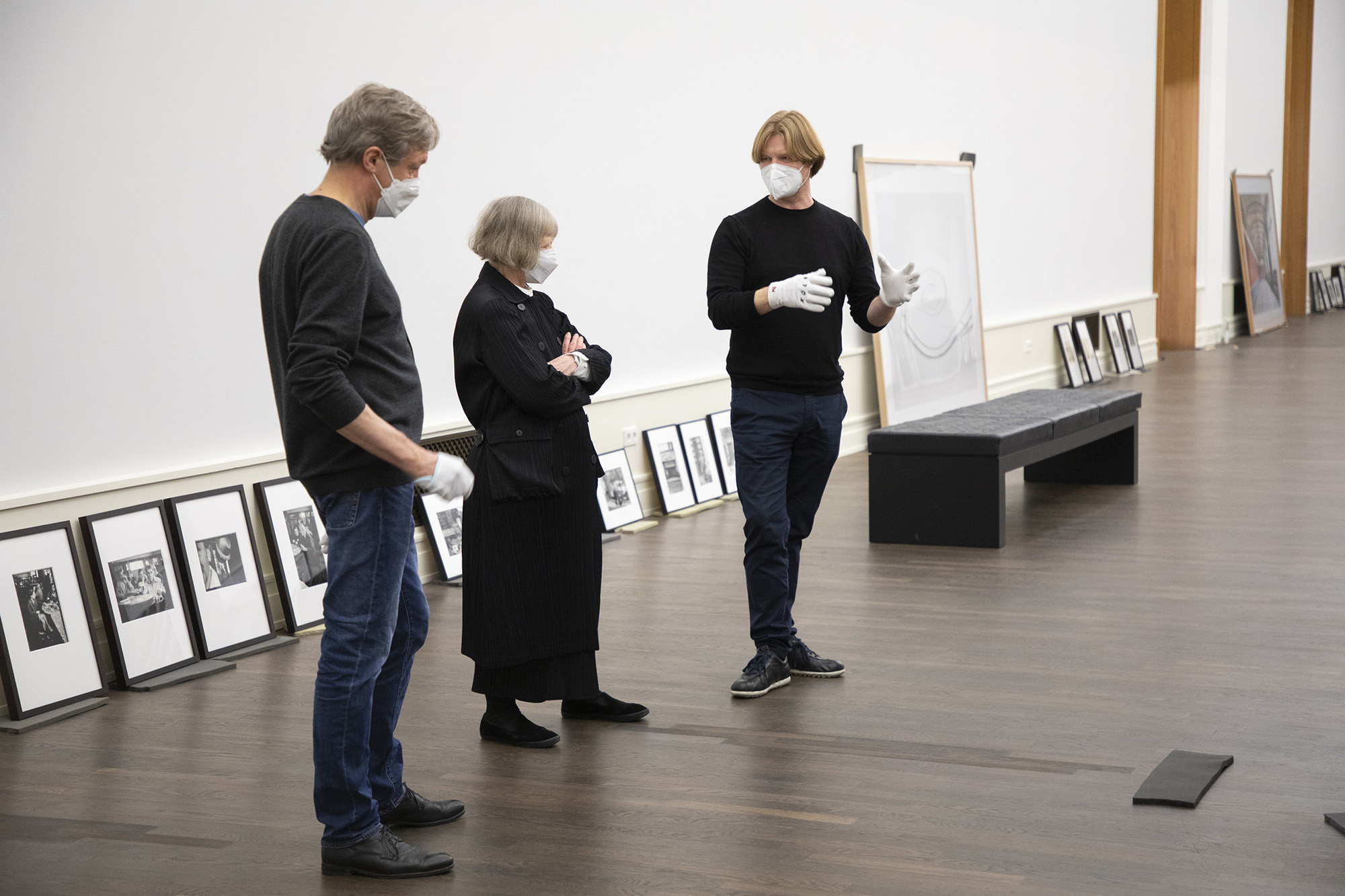 Foto: Isabel Hernandez / Ludger Derenthal, Candida Höfer and Ralph Goertz
All installations shots © IKS-Medienarchiv
The exhibition has been curated by Ludger Derenthal, Head of the Photography Collection of the Art Library, and Ralph Goertz, Head of the IKS Duesseldorf.
A catalogue accompanying the exhibition will be published by Verlag der Buchhandlung Walther und Franz König, Cologne
ISBN: 978-3-7533-0169-3.