NEWS:
SCHAF UND RUDER / WOOL AND WATER IN DER KUNSTHALLE DÜSSELDORF
1. Ok­to­ber – 27. No­vem­ber 2016
Kunsthalle Düsseldorf
An exhibit with Li­li Du­jou­rie, Isa Genz­ken, As­trid Klein, Mi­scha Ku­ball, Aron Meh­zi­on,

Rein­hard Mu­cha, Stur­te­vant, Ro­se­ma­rie Tro­ckel and Ger­hard Rich­ter.
The ex­hi­bi­ti­on is a spa­ti­al ex­pe­ri­ment wi­th mul­ti­laye­red le­vels of de­pic­tion and re­flects va­rious as­pects of the re­la­ti­ons­hip bet­ween space and pic­tu­res, from mul­ti­ple per­spec­tives, from ori­gi­nal ima­ges and co­pies. It asks ques­ti­ons about what art, art­works, work, the world, the self, and its re­flec­tion can be as mo­dels of know­ledge. In the dou­bling of the world be­hind the mir­ror, pa­ra­do­xi­cal­ly a con­cre­te frame of re­fe­rence opens for our ques­ti­ons about the re­al and pos­si­ble forms of rea­li­ty that lies bet­ween things. Thus, in ad­di­ti­on to the ge­ne­ral ques­ti­on of sen­sua­li­ty and aest­he­tics, the ex­hi­bi­ti­on ex­plo­res know­ledge, va­lues, and cor­re­la­ti­ons as a cen­tral ques­ti­on and an­s­wer in space.
WATCH OUR "99 SECONDS OF:"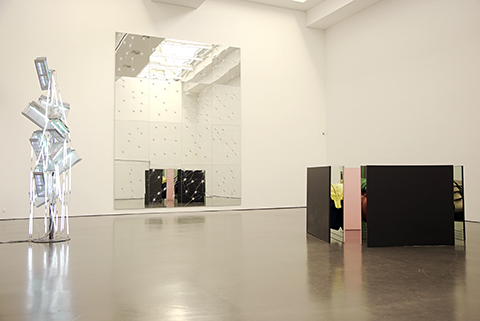 NEWS:
DC-OPEN OPENED
GALLERY UTE PARDUHN PRESENTS GRÜNBEIN / LEWANDOWSKY
02 Sept - 28 Oct 2016
The Gallery Ute Parduhn presents two artists, who are collaborationg for their project DIE SONNE VOLL IN AKTION, for the opening of the DC-OPEN: DURS GRÜNBEIN and VIA LEWANDOWSKY. A journey between reality and surreality, between photography and poetry.
WATCH OUR "99 SECONDS OF:"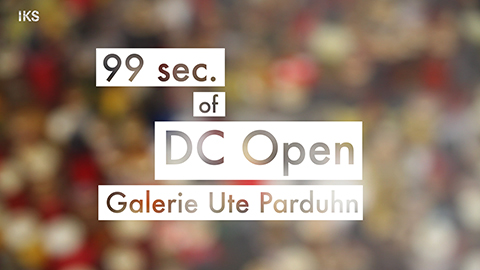 NEWS:
RICHARD DEACON AT MUSEUM FOLKWANG
Drawings and Prints 1968 - 2016
26 August - 13 November 2016
Richard Deacon (*1949 Bangor/Wales) is one of the most important sculptors worldwide. Next to his world famous sculptors, Deacon is also passionate about drawing, an activity that is highly significant for him: "I believe drawing and thinking are very close to each other."
This is the first time that an exhibition is devoted to Richard Deacon's drawings. Approximately 150 works from five decades are shown – from the artist's early beginnings up to the present day. Almost all of the works have never before been shown to the public. Drawing has a twofold function for Deacon: alongside sketches and studies for sculptures, the artist also produced drawings independent of sculptural projects from early on. The formal scope of these autonomous drawings is substantial, ranging from early small-scale collages and large-format pencil drawings to entire series in recent years. His latest work is a wall drawing that the artist conceived especially for the exhibition entrance wall.

We were allowed to accompany the artist during the setup of his show in Essen. Many thanks!

WATCH OUR "99 SECONDS OF:"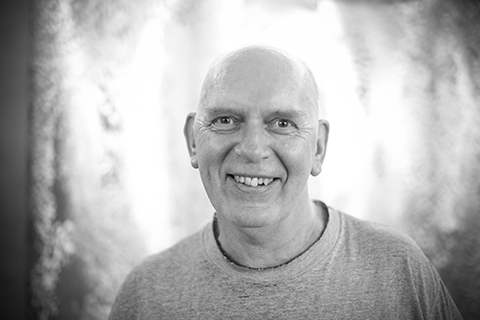 Photo: Isabel Hernandez © IKS 2016
NEWS:
IKS PRODUCE SHORT FILM ON ANDREAS GURSKY
The K20 / Kunstsammlung Northern Westfalia presents "Andreas Gursky - not abstract". We were allowed to accompany the photo artist over two days during the setup and met him and Marion Ackermann, director of K20, for an excusive walk through the exhibition. Many thanks!
WATCH OUR FILM!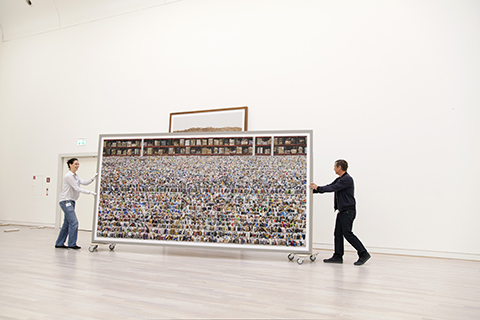 photo: Ralph Goertz © IKS 2016
NEWS:
ANDREAS GURSKY AT KUNSTSAMMLUNG NRW
Andreas Gursky - not abstract / K20 Grabbeplatz
02 July - 06 November 2016

The exhibition Andreas Gursky – not abstract provides an initial look at new works by the renowned Düsseldorf photoartist, all of them created especially for this project and presented here alongside selected earlier works.
In his recent works, Andreas Gursky explores the abstract potential of the photographic medium.

Accompanying the photographic works is a minimalist sound installation by the Canadian producer and DJ Richie Hawtin. Concept 1 was published by Hawtin in 1996 as a series of minimalistic tracks that pursue ideas concerning rhythmic abstractness in music.
We were allowed to accompany Andreas Gursky during the setup. Many thanks!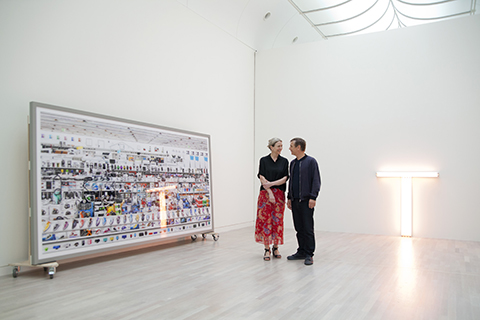 photo: Ralph Goertz © IKS
NEWS:
EXCLUSIVE NEW EDITION BY RALF BRUECK
On the occasion of his exhibition at the NRW-Forum Düsseldorf, the photo artist Ralf Brueck, a master student of Thomas Ruff, has published an exclusive
Edition of 30
of his work
SEDUCE ME, 2011
(8,28x15,74inch) in a Passepartout (15,74x19,68inch). The Edition can be ordered via the IKS or at the shop at the NRW-Forum. Price: € 280,- plus shipping.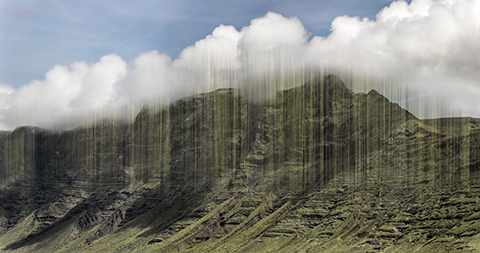 Edition SEDUCE ME, 2011 © Ralf Brueck
NEWS:
IKS PRESENTS PHOTO ARTIST RALF BRUECK AT THE NRW-FORUM DÜSSELDORF
24 June - 21 August 2016
In the second exhibit of the IKS at the NRW-Forum Düsseldorf we will be showcasing Ralf Brueck, a young representative of the Düsseldorf School of Photography. Besides works from his series "Deutsch Amerikanische Freundschaft" [German American Friendship], in which the Düsseldorf School meets influences from New Color Photography, the exhibition will also show new cycles of works that are concerned with digital manipulation. The exhibition has been curated by Ralph Goertz, head of IKS, and has been produceed in cooperation with the
NRW-Forum Düsseldorf
and the new exhibition format .ftlbr #3.
WATCH OUR "99 SECONDS OF"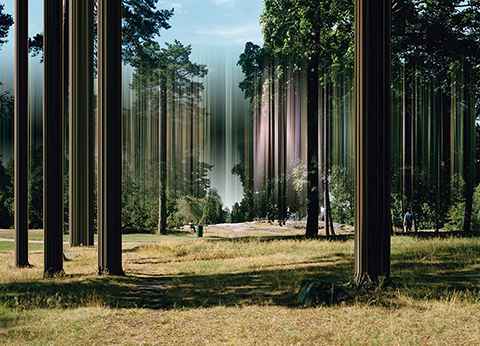 photos © Ralf Brueck / VG Bild-Kunst, Bonn 2016
NEWS:
OLAF BREUNING RETROSPECTIVE AT NRW-FORUM DÜSSELDORF
11 June - 21 August 2016
Olaf Breuning is known for his impressive pictorial worlds and his ironic views on a reality that is shaped by the media. His photographs, videos, drawings and installations make use of a shared visual language and mix symbols from the world of pop and the media with icons of high culture. Somewhere between humour and a painful seriousness, they make us aware of our consumerism, Western stereotypes and gender clichés and analyse the relationship between art and kitsch, reality and illusion, authenticity and artificiality.

WATCH OUR "99 SECONDS OF":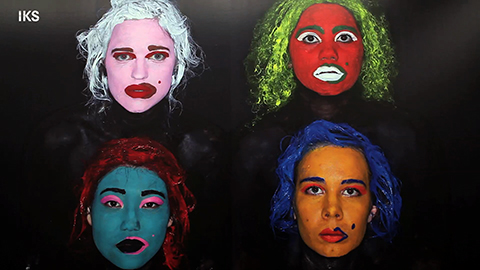 NEWS:
QUOVADIS AT KUNST&DENKER CONTEMPORARY
03 JUNE - 28 AUGUST 2016
CHLOE PIENE, DIRK SKREBER, STURTEVANT, KATHRIN GRAF, NICK MAUSS, SABRINA FRITSCH, SABRINA JUNG, SEBASTIAN RIEMER, THOMAS WOLL
WATCH OUR "99 SECONDS OF:"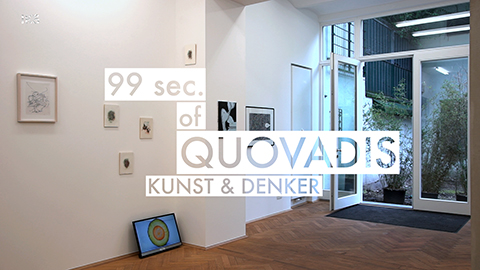 NEWS:
HÖRNER/ANTLFINGER AT THE NRW-FORUM / IMAI IN DÜSSELDORF
2 June - 21 August 2016
IMAI / NRW-Forum Düsseldorf
The artist duo Hörner/Antlfinger has been undertaking time travel experiments which center on the process of imagination with different participants across multiple countries since 2005. At the group exhibit
"Planet B - 100 Ideas for a New World"
the artist duo Hörner/Antlfinger presents their media art installation "Back to the Future, Forward to the Past. Three Time Travel Experiments". The installation was installed and curated by
imai - inter media art institute
.
WATCH OUR "99 SECONDS OF:"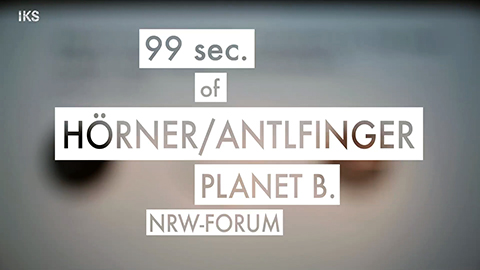 NEWS:
JUERGEN TELLER AT BUNDESKUNSTHALLE BONN

Juergen Teller. Enjoy Your Life!
10 June - 25 September 2016

Juergen Teller is one of the world's most sought-after contemporary photographers. His pictures have straddled the interface of art and commercial photography. His stylistic device of choice is the portrait. Working in the areas of music, fashion and celebrities as well as everyday scenes and landscape, he draws on his intuitive feel for people, situations, milieus and clichés to create images of great immediacy and deceptive simplicity. The latest series, "Mit dem Teller nach Bonn" and "Plates/Teller", seem to bring together and concentrate all his earlier themes and compositions.

WATCH OUR "99 SECONDS OF:"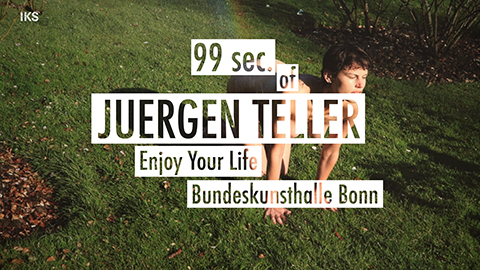 NEWS:
HITO STEYERL "FACTORY OF THE SUN" AT DORTMUNDER U
HardwareMedienKunstVerein
5 June - 28 August 2016
The HMKV presents the­­­ German premiere of Hito Steyerl's "Factory of the Sun". The internationally renowned artist Hito Steyerl (*1966) produced this spectacular installation for the German Pavilion at the Venice Biennale in 2015. In this video environment Hito Steyerl makes use of the emphatic notion of sunlight, that old symbol of progress, leading us in a dialectic fashion, which is both critical and playful, to the very heart of the debates about our digital present. It is not without a certain bitter irony that Steyerl weighs up the utopian potential of the Internet against its "deadly transparency". The protagonists' dance in the "motion capture studio" acts as the motor for the progressing metamorphosis of the images, and is at the same time a playful form of resistance against invisible opponents.
WATCH OUR "99 SECONDS OF:"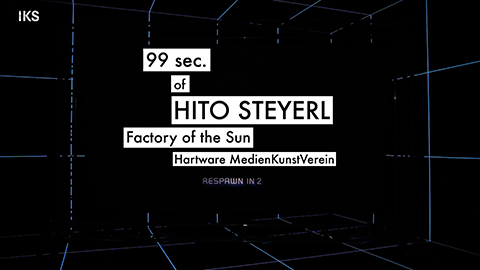 NEWS:
ROGER BALLEN AT VON DER HEYDT-KUNSTHALLE WUPPERTAL
Photography and Film 1969-2016
22 May - 7 August 2016
The exhibition presents the wide range of the Roger Ballen artistic univers from his early works in New York and Africa up to his actual works on the intellectual architecture of the human being.
Besides his photographs he also presents his rare video works and the world famous music video "I Fink U Freakly" of the avantgarde pop group Die Antwoord.

WATCH OUR "99 SECONDS OF:"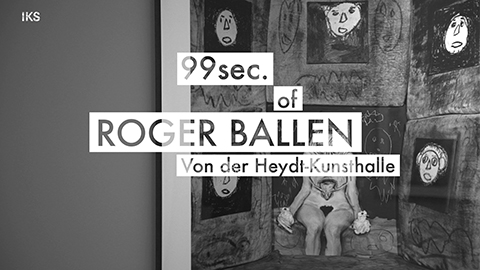 NEWS:
KATHARINA SIEVERDING AT ACADEMY-GALLERY IN DÜSSELDORF
14 May - 26 June 2016

The Academy-Gallery of the Art Academy in Düsseldorf presents Katharina Sieverding "World Line 1969-2016 Projected Data Images".
The Düssedorf based artist has created this exhibition especially for the five big rooms at the gallery. Projected via five projectors Sieverding will present eight different works which where produced between 1969 and 2016. For her the life size projection is an important part of her artistic process.
We met the artist for an exclusive interview. Many thanks!
WATCH OUR "99 SECONDS OF:"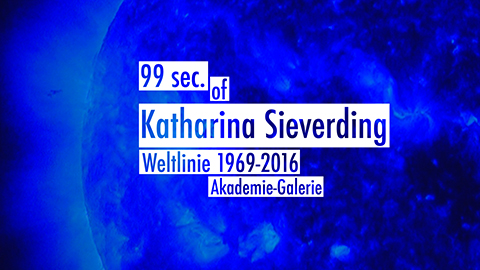 NEWS:
FERNAND LÉGER AT MUSEUM LUDWIG COLOGNE
Fernand Léger. Painting in Space
April 9 – Ju­ly 3, 2016
In this spe­cial an­niver­sary year for the mu­se­um build­ing, the ex­hi­bi­tion Paint­ing in Space casts a new light on one of the most di­verse and in­flu­en­tial artists of mod­er­nism. Fer­nand Léger (1881–1955), a con­tem­po­rary of Pab­lo Pi­cas­so and Ge­orges braque, sought to syn­th­e­size the arts in his work. He made films, cre­at­ed mu­rals for pri­vate homes as well as public build­ings such as the Unit­ed Na­tions Head­quar­ters in New york, and de­signed cos­tumes, the­ater sets, and church win­dows. Paint­ing in Space is the first ret­ro­spec­tive that fo­cus­es on Fer­nand Léger's mu­rals.
WATCH OUR "99 SECONDS OF:"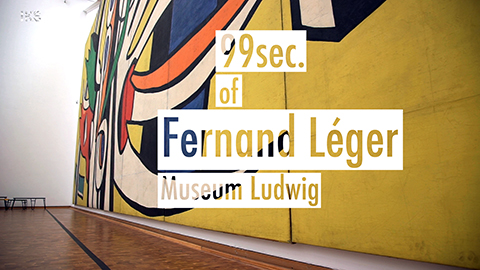 NEWS:
DIANGO HERNANDEZ AT MUSEUM MORSBROICH LEVERKUSEN
DIANGO HERNANDEZ - THEORETICAL BEACH
22 May - 28 August 2016
The Duesseldorf based artist Diango Henandez, who was born and raised in Kuba, presents his first huge solo exhibition at the Museum Morsbroich. He very often deals in his woks with political, social and kultural reflections, which are often autobiografical.
We were allowed to accompany the artist during the set up. Many thanks!
WATCH OUR "99 SECONDS OF:"
photo: Isabel Hernandez
NEWS:
KATHARINA FRITSCH IM MUSEUM FOLKWANG
13. May - 30. October 2016
The Düsseldorf based artist Katharina Fritsch is world-famous. The subject of a series produced between 2005 and 2007 is Fritsch's home town of Essen. These important works are now on show in Essen for the first time. Fritsch is exhibiting her silkscreen prints together with sculptures at Museum Folkwang and this is complemented by a presentation at Villa Hügel.

WATCH OUR "99 SECONDS OF:"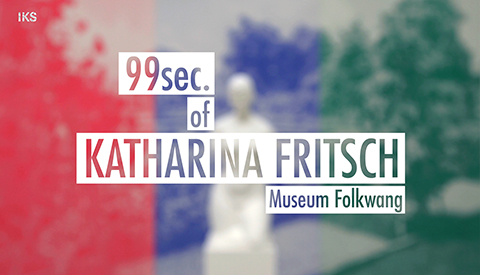 NEWS:
WILLIAM KENTRIDGE AT MARTIN-GROPIUS-BAU BERLIN
NO IT IS !

South African William Kentridge is one of the most internationally significant contemporary artists. He is not just a visual artist but also a filmmaker, director and a great raconteur. His comprehensive body of works has spanned several artistic disciplines for more than three decades now. Berliner Festspiele will present his complete interdisciplinary oeuvre for the first time: at the Martin-Gropius-Bau (May 12th to August 21st 2016) and in the Haus der Berliner Festspiele during the Festival Foreign Affairs (5th to 17th July 2016). #KentridgeBerlin #KentridgeGropiusbau
Ralph Goertz, director of IKS, was allowed to meet the atist for an interview. Many thanks!
WATCH OUR TRAILER!
NEWS:
HANS-PETER FELDMANN AT C/O BERLIN
PHOTOGRAPHY EXHIBITION
30 April - 10 July 2016
The Duesseldorf based artsist Hans-Peter Feldmann is on display with his photographs at C/O Berlin.
We were allowed to accompany the artist during the setup. Many thanks!
WATCH OUR "99 SECONDS OF:"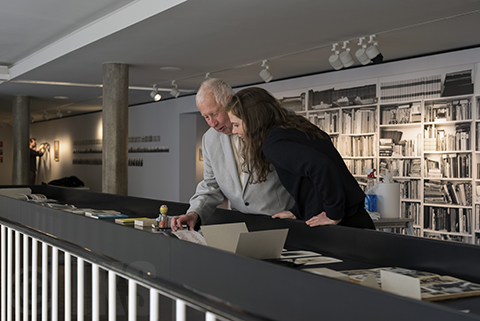 photo: Ralph Goertz © IKS 2016
NEWS:
DOMINIQUE GONZALEZ-FOERSTER AT K20
1887 – 2058
23.04. – 07.08.2016
In the art of Dominique Gonzalez-Foerster (born in 1965 in Strasbourg, lives in Paris and Rio de Janeiro), everything revolves around experiences of and reflections on spaces and times. Using often minimal resources, she evokes places, people, and things that exist in one form or another in our collective memory. Her themes may be as diverse as the influence of hippiedom during the 1970s, the film director Rainer Werner Fassbinder, the urban utopia of Brasilia, King Ludwig II, psychoanalysis, a tropical rainstorm, or the prospects for the year 2066.
We met the artist for an interview. Many thanks!
WATCH OUR TRAILER!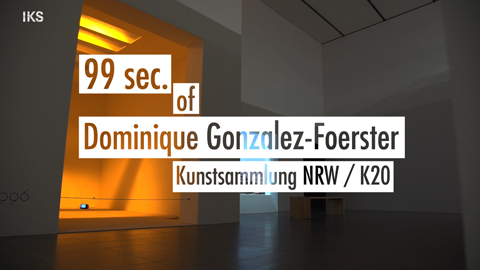 NEWS:
JEAN TINGUELY AT MUSEUM KUNSTPALAST DUESSELDORF
23 April - 14 August 2016
With his junk objects, machine sculptures, but also his happenings and performances, the Swiss artist Jean Tinguely is regarded as one the most versatile and independent protagonists of the international art scene since the 1950s. Early on he artistically explored the phenomenon of movement. In collaboration with the
Tinguely Museum
, Basel, and the Stedelijk Museum, Amsterdam, this show will be the first major exhibition of the work of Tinguely in approximately15 years. The show, which comprises more than 100 works, will span a wide range of works, starting with his first tenderly poetic wire sculptures and kinetic assemblages through to his world-famous Méta-matics.

WATCH THE "99 SECONDS OF: TINGUELY"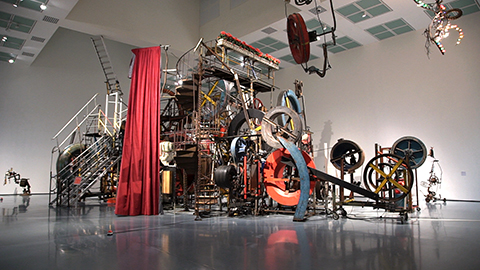 photo: Ralph Goertz © IKS
NEWS:
HOMEBASE IM KAI 10
HOMEBASE - The interior in contemporary art
8th April - 23rd Juli 2016
KAI 10 / ARTHENA FOUNDATION Düsseldorf
The home has become the center of one's social and professional life. Nowadays communication and consumption are possible without even leaving the private space. The contradiction is merely apparent: In this age of globally networked activities, people's private microcosm in particular is gaining in importance. But to which extent have our homes changed and what will they look like in the future, when hardly any objective criteria remain in order to distinguish between the private and public sphere, between work and leisure, between day and night, between rest and activity?
WATCH OUR "99 SECONDS OF:"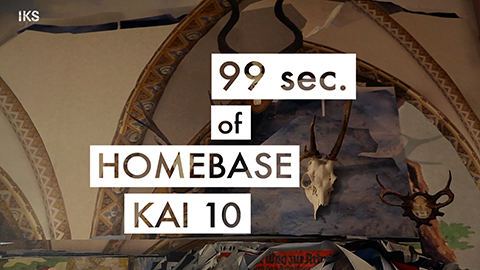 NEWS:
NEW FILM ON SCULPTOR TONY CRAGG
TONY CRAGG - PARTS OF THE WORLD
Tony Cragg counts as the most significant British sculptor, who is using a wide variety of materials like wood, glas, bronze and plaster to examine the relationship between natural and synthetic forms and structures since the 1970s. The documentary by Ralph Goertz accompanies the artist in his studio, where he introduced his different working progresses, while he is drawing and ends at his
first retrospective exhibit at the Von der Heydt-Museum Wuppertal.
The documentary will be published as part of our DVD Edition and distributed by Koenig Books (ISBN: 978-3-86335-915-7).
WATCH OUR FILM-TRAILER!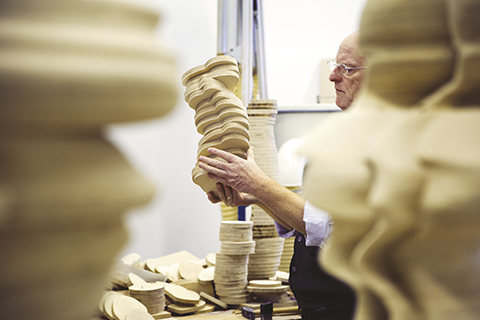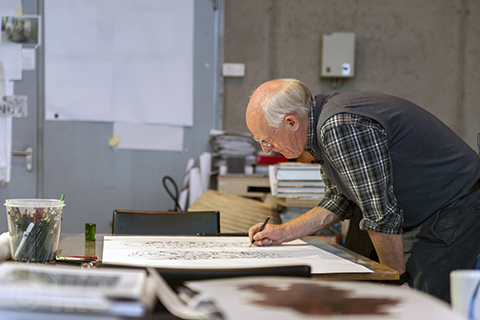 photos: Isabel Hernandez © IKS
NEWS:
TONY CRAGG IM VON DER HEYDT MUSEUM WUPPERTAL
TONY CRAGG. RETROSPECTIVE
19.04. - 14.08.2016
The Von der Heydt-Museum Wuppertal is dedicating a comprehensive retrospective exhibition to Tony Cragg (b. 1949), the most significant British contemporary sculptor. The exhibition encompasses all three floors of the Museum and presents a survey of Cragg's entire oeuvre, from his student days right up to new works created in 2015. The artist is exhibiting sculptures, drawings, and prints, including works that have never been on display before.

Thematic displays follow the course of the sculptor's multifaceted artistic development, in which the variety of materials used (including plastic, glass, works on paper, bronze, plaster, and stainless steel) plays a significant part. The series of works that examine the relationship between natural and synthetic forms and structures – including his Stack Sculptures, Vessels and Cells, Early Forms, Rational Beings and his earlier wall installations in plastic – form the other main focal point of the show.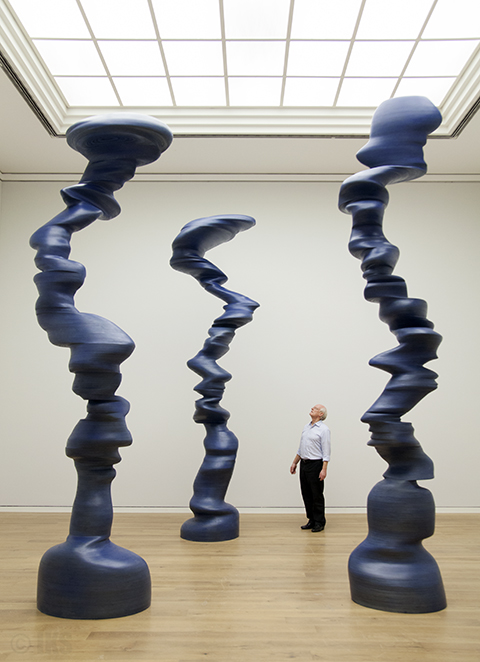 photo: Ralph Goertz © IKS

NEWS:
RITA McBRIDE AT THE KUNSTHALLE DUESSELDORF
99 SECONDS OF: RITA McBRIDE. SOCIETY

9 April – 26 Ju­ne 2016


Ri­ta McBri­de's oeu­vre sin­ce the 1980s deals wi­th the cha­rac­te­ris­tics and in­ter­sec­tion points of in­dus­tri­al de­sign, mi­ni­ma­list sculp­tu­re, mo­der­nist ar­chi­tec­tu­re, pu­blic spaces, and the gaps they ge­ne­ra­te. Her ar­tis­tic prac­tice is ba­sed on the tra­di­ti­ons of Mi­ni­mal Art and in­sti­tu­tio­nal cri­tique. The ex­pan­si­ve sculp­tu­res and in­stal­la­ti­ons da­ting from 1997 to 2015 shown at Kunst­hal­le Düs­sel­dorf de­mons­tra­te the bre­adth of her prac­tice.

WATCH OUR "99 SECONDS OF:"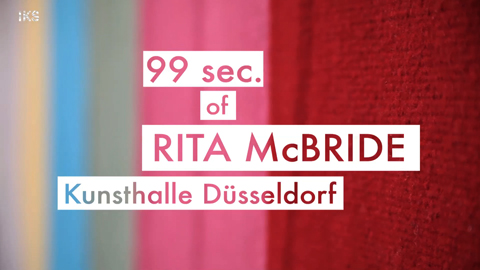 NEWS:
99 SECONDS OF: ALBERTO BURRI / K21
The Trauma of Painting
05 March - 03 July 2016
Alberto Burris biography reflects the trauma of the Italy after Fascism and the turbulent, dramatic course of the 20th century. In the immediate aftermath of World War II, Burris experiences as a military physician and as an American prisoner of war transformed him into a powerful autodidactic artist whose work bears witness to acts of destruction and repair. With his instantly recognizable paintings constructed from materials such as iron, burlap, and plastic, the Italian Alberto Burri (1915–1995) was among the most influential artists of the postwar era. In cooperation with the Solomon R. Guggenheim Foundation in New York, the Kunstsammlung Nordrhein-Westfalen in Düsseldorf hosts the comprehensive retrospective "Alberto Burri: The Trauma of Painting".
WATCH OUR "99 SECONDS OF: ALBERTO BURRI"
NEWS:
99 SECONDS OF: KUMSITZ - KIT DÜSSELDORF
21 FEB. - 1 MAY 2016
"Kumsitz" (Hebrew: campfire), is a word that developed from the Yiddish-German phrase "komm" (come) and "sitz" (sit). It is a word that has wandered much, just like the fourteen German and Israeli artists who participated in the Bronner Artist in Residence Programme from 2012 to 2014, living and working for numerous months in Düsseldorf and Tel Aviv, respectively. At KIT they show pictures, sculptures, and videos they made under the influence of living abroad.
With Nadav Bin-nun, Rafram Chaddad, Sabine Dusend, Angela Fette, Uri Gershuni, Nir Harel, Alma Itzhaky, Christoph Knecht, Sebastian Mejia, Jens Pecho, Barak Ravitz, Leunora Salihu, Katja Tönnissen, Alexander Wissel (with Jochen Weber and Moritz Wegwerth), Pavel Wolberg, Gil Yefman.
WATCH OUR 99 SECONDS OF: KUMSITZ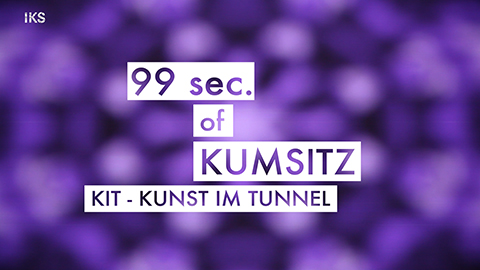 NEWS:
THOMAS STRUTH / NATURE & POLITICS IM MUSEUM FOLKWANG
Thomas Struth / Nature & Politics
Museum Folkwang
4 March - 29 Mai 2016
Whether research institutions, a theme park, or sacred spaces: in recent years, Thomas Struth has photographed an astonishing variety of locations. Apart from being forged by human hands, these locations all share one overriding similarity: they are extremely complex, albeit fulfilling entirely different functions.
We were allowed to accompany Thomas Struth during the setup for our "99 Seconds of:"
WATCH THE "99 SECONDS OF:"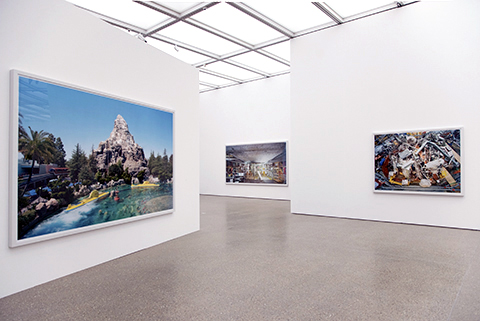 photos: Ralph Goertz © IKS
NEWS:
IKS GOES MUSIC / 99 SECONDS OF HEATHER NOVA
Friedenskirche Krefeld, Germany
22 Feb 2016
Heather Nova counts to the most artistic singer/songwriter and she is able to enchants the public with her voice. We did ask her for an interview for our series "99 Seconds of:" because in our point of view she is very close to art, especially in her artistic approach, how she creates and performes a song. Many thanks!!
Live at the Friedenskirche Krefeld, Germany. Including extracts of: "Treehouse", "I wanna be", "Girl on the Mountain".
WATCH OUR "99 SECONDS OF: HEATHER NOVA"!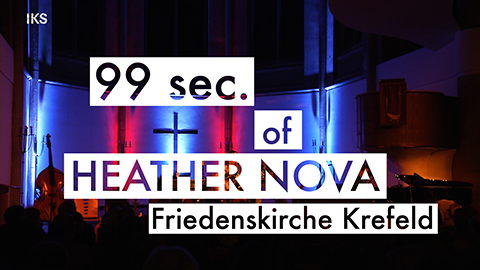 NEWS:
SIMONE NIEWEG / TREES, LIGHT, FOREST / SCHLOSS BENRATH
14 Feb - 24 April
Schloss Benrath
Simone Nieweg new exhibition at the Schloss Benrath is centered around the tree as her main object. They look in between sculptures, communities or groups of trees. About 15 years Simone Nieweg was walking around the world to find special situations and examples to present them as structures or objects.
WATCH OUR "99 SECONDS OF: SIMONE NIEWEG"
photo: Ralph Goertz © IKS
NEWS:
NEW TRAILER SERIES IN CO-OPERATION WITH K21 - KUNSTSAMMLUNG NRW
In co-operation with the K21 - Kunstsammlung NRW the IKS was asked to produce four short films on their new artist rooms. Every year they exhibit three to four new artistic positions, which are related to actual themes.
On February 26th three new rooms by Diango Hernández, Ibrahim Mahama and Bertold Stallmach, Nina Fischer & Maroan el Sani will be open.
PLEASE WATCH OUR
99 SECONDS OF: IBRAHIM MAHAMA!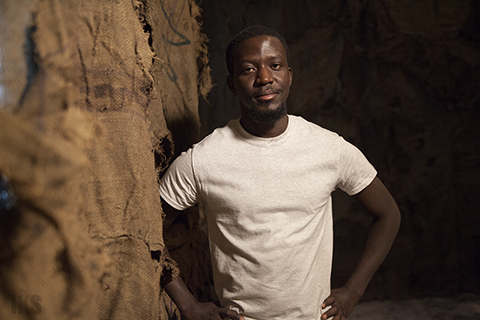 Ibrahim Mahama
photo: Ralph Goertz © IKS 2016
NEWS:
GERMAINE KRUIP AT THE OUDE KERK AMSTERDAM
Germaine Kruip: Geometry of Scattering
on view till March, 27th
The Dutch artist Germaine Kruip is best known for her artistic interventions. At the "Oude Kerk" in Amsterdam she reveals with the invisible and created a space of silence, concentration and power.

WATCH OUR "99 SECONDS OF: GERMAINE KRUIP"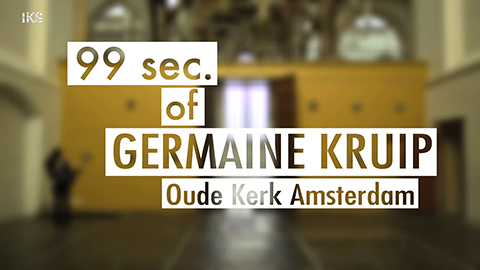 NEWS:
LECTURE AND FILM BY RALPH GOERTZ AT C/O BERLIN
C/O Berlin, 25 Feb, 8p.m.
"Snapshotness & New Color Photography"
lecture and film on Stephen Shores photographs on the occasion of the retrospective exhibit by Stephen Shore, the director of the IKS, Ralph Goertz, will give an introduction to the artistic work of one of the most significant representativ of New Color Photography. Lecture is sold out. Many thanks for the invitation and the great audience!
Foto: South of Klamath Falls, U.S. 97, Oregon, July 21, 1973. © Stephen Shore
NEWS:
NEW "99 SECONDS OF: CYPRIEN GAILLARD"
JULIA STOSCHEK COLLECTION DUESSELDORF
Cyprien Gaillard often starts a new work by seeking out artefacts, monuments or architectural creations which seem to have lost their significance in the present time. His nomadic gaze takes in backdrops both urban and natural, manicured or wild, focussing on spots where beauty has evolved from decay or where violence has left scars on the landscape. Thus the artist vividly depicts the times and places where our present-day economic and cultural needs interact with architectural legacies or the cultural heritage of a region. Each of Gaillard's film works orbits in its own ways the myths surrounding the various settings, describing how outworn utopian urges or belief systems collide with current social conditions and political realities.
WATCH THE "99 SECONDS OF:" TRAILER!

NEWS:
ELGER ESSER GETS OSKAR-SCHLEMMER-PRIZE
EXHIBITION AT THE KUNSTHALLE KARLSRUHE
20 FEB. - 10 JULY 2016
The Kunsthalle Karlsruhe presents a large overview on the Duesseldorf based photo artist Elger Esser. We were allowed to accompany the artist over years to produce our documentary, which is available at the DVD Edition.
Congrats to the state prize of Baden-Württemberg.
WATCH THE TRAILER IN GIVERNY!
photo: Ralph Goertz © IKS
DUESSELDORF PHOTO WEEKEND
vom 12.-14. Februar 2016
For the fifth time the Duesseldorf Photo Weekend presents a huge program centered around the media photography in more than 50 Galleries, Museum and Institutions.
The
NRW-Forum Duesseldorf
presents next to "Horst P. Horst" the Duesseldorf based photo artist
"Mareike Foeking - reality hung up so I called"
. At the
Gallery Rupert Pfab
we have found an interesting exhibit on
Matthias Wollgast.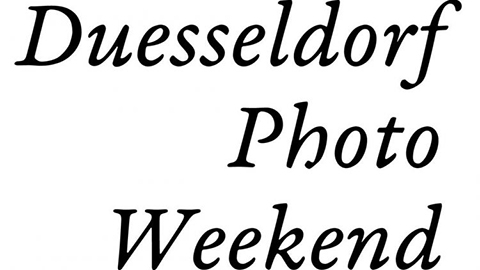 NEWS:
STEPHEN SHORE RETROSPECTIVE AT C/O BERLIN
6 Feb - 22 May 2016
"I wanted to make pictures that felt natural, that felt like seeing, that didn't feel like taking something in the world and making a piece of art out of it." Stephen Shore
Stephen Shore is internationally best known, next to William Eggleston and Joel Meyerowitz, as an important representative of the american
New Color Photography
. C/O Berlin presents the Stephen Shore Retrospective with around 300 works starting in the early 70s up to his "Ukraine"-Series from 2013/14.
We are proud that the documentary of Stephen Shore by Ralph Goertz, direcor of the IKS, will be presented and screened as part of the Retrospective. Many thanks!
Our Berlin based filmmaker, Karsten Brinkman, went to the press conference to produce a "99 seconds of" Trailer.
WATCH IT HERE!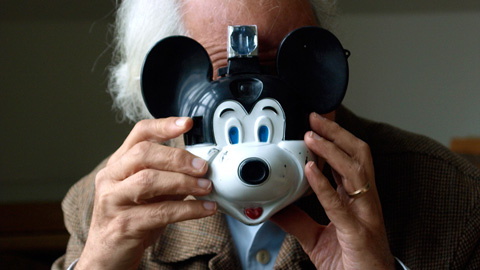 photo: Ralph Goertz © IKS
NEWS:
DULWICH PICTURE GALLERY LONDON PRESENTS NIKOLAI ASTRUP
Opening on 4th February 2016

We have finished our first international film co-operation!
In order of the Dulwich Picture Gallery, Henie Onstad Kunstsenter Oslo and Kunsthalle Emden we produced a documentary over one year on
NIKOLAI ASTRUP: PAINTING NORWAY!
The documentary will be screened as part of the exhibit - starting on 4th Februarry and will be available on DVD.

"He should be as famous as Edvard Munch, but the world seems to have forgotten him – until now" - Jonathan Jones, The Guardian

"The Norwegian artist you've never heard of but will never forget" - Maev Kennedy, The Guardian
Many thanks for the great collaboration!
WATCH THE TRAILER IN ENGLISH!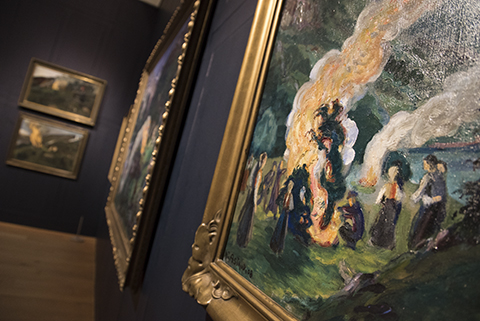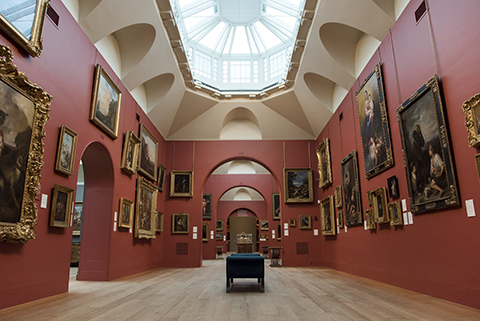 photos: Ralph Goertz © IKS 2016
NEWS:
IKS MADE "99 SECONDS OF: FLINGERN GALLERIES"
The Duesseldorf based Galleries are nationally best known for exquisit Contemporary Art. On Januar 15th eight of the galleries based in Duesseldorf-Flingern had their openings.
We were allowed to visit four of them to produce our new format "99 Seconds of: Flingern-Galleries" on their exhibits. Many thanks!
WATCH THE TRAILER:
KONRAD FISCHER GALERIE
/
VAN HORN
/
COSAR HMT
/
PETRA RINCK GALERIE
.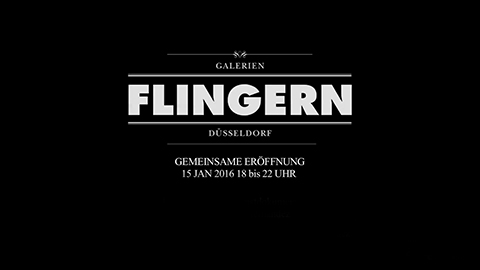 © Jan Dibbets / Konrad Fischer Galerie / Ralph Goertz
NEWS:
IKS GOES GUGGENHEIM NEW YORK
During our one week travel to New York we were allowed to produce a short for our new series
"99 Seconds of:"
on the exhibition
"Photo Poetices: An Antology"
at the Guggenheim. Ralph Goertz, director of the IKS, met Senior Curator Photography Jennifer Blessing for an exclusive interview.
WATCH THE
"99 SECONDS OF:"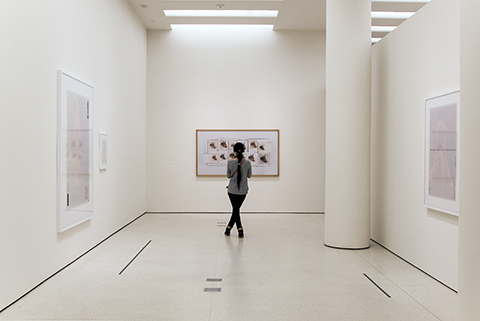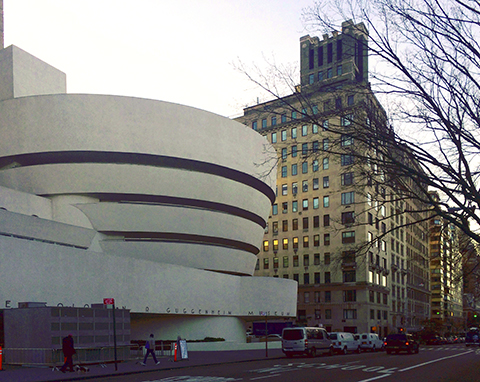 photos: Ralph Goertz © IKS
NEWS:
WE WISH YOU AN INSPIRED AND HAPPY NEW YEAR 2016
In 2016 we will produce - next to our famous series "99 SECONDS OF:" some new documentaries on Nikolai Astrup, Tony Cragg, Edgar Degas und Auguste Rodin and Hans-Peter Feldmann.
We are glad to enter in an extraordinary year full of inspiring ART!