NEWS:
CRANACH AT MUSEUM KUNSTPALAST

CRANACH Master - Brand - Modernism

Museum Kunstpalast
WATCH OUR "99 SECONDS OF:"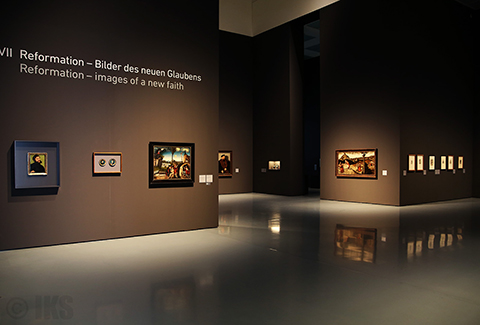 photo: Isabel Hernandez
NEWS:
GERHARD RICHTER. THE EDITIONS AT MUSEUM FOLKWANG
April 7 – Juli 30, 2017
Museum Folkwang presents from April 2017 all of Gerhard Richter's editions from Olbricht Collection created since 1965.
Gerhard Richter. The Editions
. provides an overview of his artistic output to date, which now spans over five decades. Richter has been using editions both to reinterpret and disseminate his art since the 1960s. Even his early prints reveal how the artist formulated questions he was addressing in his painterly practice in new ways in his editions, namely questions concerning the relationship between original and reproduction, or the properties of painting and photography, as well as the readability of his themes.
photo: Jens Nober © Museum Folkwang
NEWS:
HSL LAB CELEBRATES HAS BECOME 30 YEARS
The Duessldorf based photo lab HSL is celebrating their 30 year company. In occasion of the celebration they announced an exhibition with works by Tony Cragg, Candida Höfer, Hans-Peter Feldmann: etc., curated by Ralph Goertz, director of IKS. "30 years - 30 artists" will take place at HSL and starting on May 5th at the fiftyfifty Gallery in Duesseldorf. All photographs will be sold to support homeless people.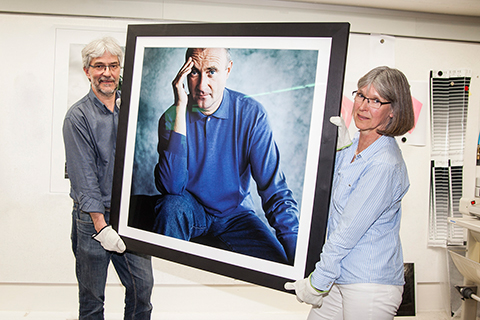 NEWS:
HAUNTED HOUSE AT COSAR HMT
March 11 - April 18.
Three extraordinary artists from England, Austria and Germany are bringing their art into the Duesseldorf based Gallery Gosar HMT. Werner Reiterer, Guenter Weseler and David Falconer are playing in a fascinating and absurd way with their contemporary view on sculptur and painting.

WATCH OUR "99 SECONDS OF:"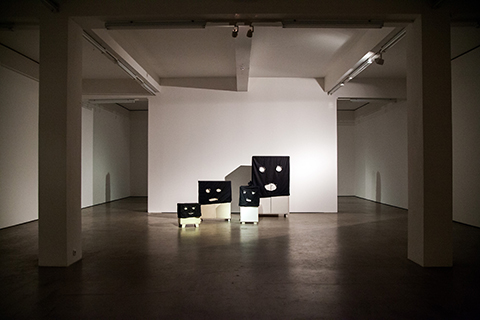 photo: Installation by Werner Reiterer
NEWS:
NEW ARTISTS ROOM BY ALEXANDRA BIRCKEN AT KUNSTSAMMLUNG NRW
The K21 Ständehaus is a very special venue for young international artists and for the contemporary portions of the permanent collection. Traversing three levels, 22 rooms offer visitors intensive encounters with painting, sculpture, photography, film, and in particular with spatially-oriented art. Selected contemporary artists are invited to display works for a period of one year, thereby engaging in dialogue with other works in the collection.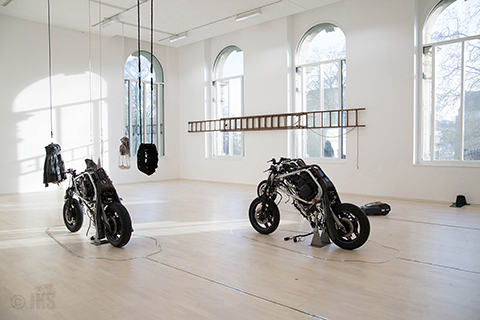 photo: Isabel Hernandez © IKS-Medienarchiv
MORE THAN 3000 VISITORS AT THE OPENING
Peter Lindbergh came from Paris to Duesseldorf for the opening of his exhibition "Peter Lindbergh / Garry Winogrand: Women on Street" (curated by Ralph Goertz / IKS) an broke all records of the NRW-Forum Duesseldorf.
The opening evening of the Duesseldorf Photo Weekend 2017 at the NRW-Forum was a great success. Next to "Thomas Mailänder: The Fun Archive" (curated by Alain Bieber), "Perfect Storm" und "On Photography" (imai) it was Peter Lindbergh, who broke with more than 3000 visitors all records. His exhibition "Lindbergh/Winogrand" is on view till 30th April.
Many thanks to the team of the NRW-Forum, Alain Bieber, Clara Maria Sels and all visitors, who were patience enough to wait in the very long line outside!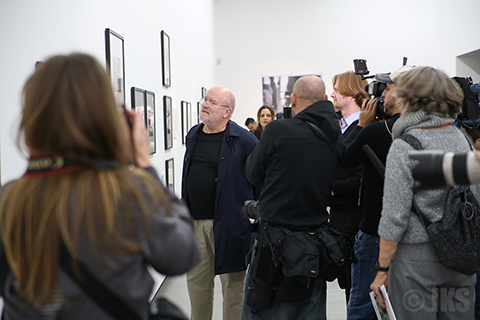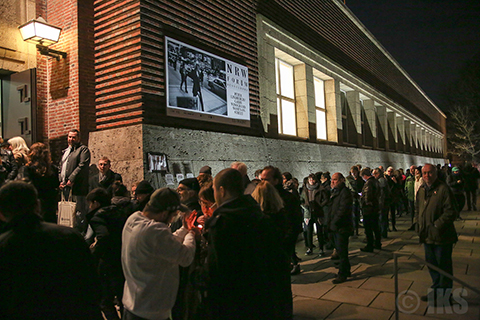 photos: Isabel Hernandez © IKS-Medienarchiv 2017
PETER LINDBERGH / GARRY WINOGRAND: WOMEN ON STREET
by Ralph Goertz / at NRW-Forum Duesseldorf / Duesseldorf Photo Weekend 2017
NEWS:
IKS STARTS WITH EXHIBIT ON LINDBERGH AND WINOGRAND
It is a great upcoming exhibition to start the New Year 2017. The IKS presents together with the NRW-Forum the exhibition
"PETER LINDBERGH / GARRY WINOGRAND: WOMEN ON STREET"
(curator: Ralph Goertz). The exhibit presents two of the best photographers and centers around the question of reality and staging in
street photography
. Next to the first presentation in Germany of the series WOMEN ARE BEAUTIFUL by Garry Winogrand, we also present 44 photographs by Peter Lindbergh, which he made on street back in 1990s.
As a world premiere we are also proud to present the rare color works by Garry Winogrand!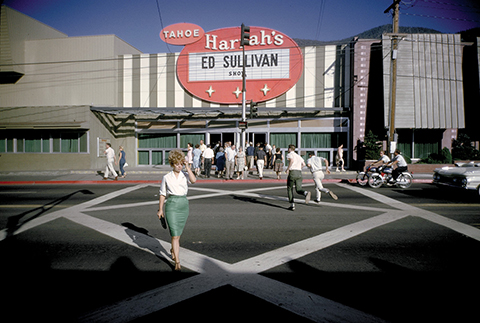 © Peter Lindbergh, Paris
NEWS:
THOMAS SCHÜTTE AT SKULPTURENHALLE NEUSS
28 Jan. - 12 March 2017
Thomas Schütte counts as one of the most important sculptors in contemporary art. At the sculpture hall in Neuss Thomas Schütte presents, next to new and older works, his impressive "United Enemies". Great exhibit!

WATCH OUR "99 SECONDS OF:"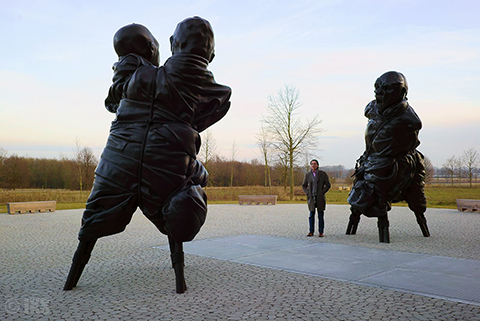 © IKS-Medienarchiv
ULRIKE SCHULZE GETS EHRENHOF PRIZE
Museum Kunstpalast Düsselorf
20 Jan - 16 April 2017

In 2016 the Museum Kunstpalast announced together with Georg Landsberg the Ehrenhof Prize for a graduate of the famous Art Academie in Düsseldorf. The first prize goes to Ulrike Schulze who is work with minimal, side specific installations.
We met the artist for a short interview.
WATCH OUR "99 SECONDS OF: ULRIKE SCHULZE"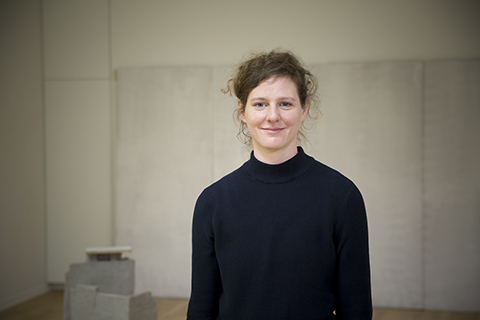 photo: Isabel Hernandez © IKS-Medienarchiv
NEWS:
CANDIDA HÖFER AT THOMAS ZANDER GALLERY
Candida Höfer - Observations
19 Nov. 2016 - 4 Feb. 2017
The Thomas Zander Gallery presents at their current exhibition for the first time new dye transfer prints, which were made this year in cooperation with the Gallery.
But what you also can see are some new works, which are becoming closer to abstract photography.
We met the artist for an interview. Many thanks!
WATCH OUR "99 SECONDS OF:"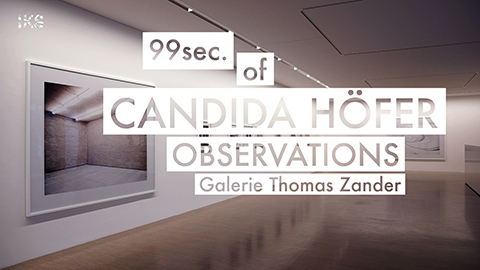 NEWS:
NORBERT TADEUSZ AT BECK & EGGELING
Nobert Tadeusz | Olé!
4 Nov 2016 – 21 Jan 2017
For the first time the Gallery Beck & Eggeling International Fine Art presents an overview of painting by german painter Norbert Tadeusz. All works are shown for the first time or were not shown for a long time.
The works, which displays interior or yerydayness scenes, were made between 1974 and 2006.


WATCH OUR "99 SECONDS OF:"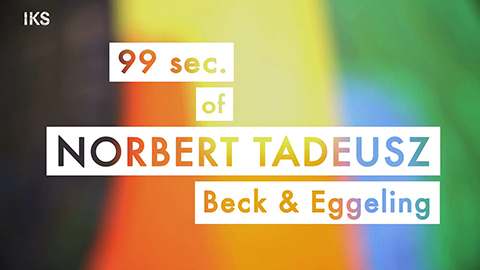 NEWS:
DEGAS & RODIN AT VON DER HEYDT-MUSEUM WUPPERTAL
IKS PRODUCED A DOCUMENTARY ON THE ARTISTS
Degas & Rodin
25 Oct 2016 - 26 Feb 2017
The did know and respected each other. Their works on movement, body, space and time are unique and both were fascinated by horses, women and photography. Without them the modern age in art would not have been possible.
On the occation of the exhibit, we were asked to produced a documentary in Paris and Meudon. Many thanks!

WATCH A SHORT CUT OF THE DOCUMENTARY!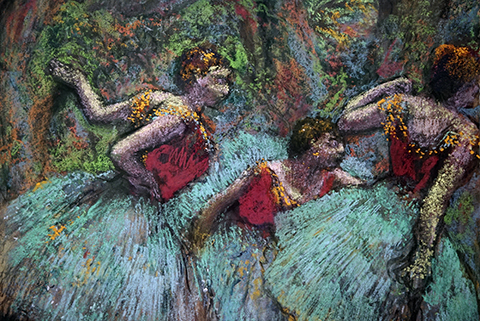 Edgar Degas "Drei Tänzerinnen", ca. 1903, Fondation Beyeler, Riehen/Basel, Sammlung Beyeler
NEWS:
CHRISTO AT MUSEUM KUNSTPALAST IN DUESSELDORF
On November 3rd, 2016 the artist CHRISTO will visit the Museum Kunstpalast for a lecture.
Christo is also part of the exhibition "Behind the curtain" where he presents his "Wrapped Beetle" from 1963/2014.
Ralph Goertz, director of the IKS, met Christo last winter at his studio in New York and talked with him about this work, which he presented at the Schmela Gallery for the first time back in 1963.
NEWS:
DANCING WITH MYSELF AT MUSEUM FOLKWANG ESSEN
Self-portrait and Self-invention / works from the PINAULT COLLECTION
From October 7, 2016, to January 15, 2017, the large exhibition hall in the Museum Folkwang will be given over to an artistic examination of the self. The thread that links the pieces together is the multifaceted presence of the artists in their own work. It will be the first time that such a substantial number of the outstanding group of works acquired by Francois Pinault is to be put on display in Germany. Dancing with Myself is a playful, poetic, poltical, and wild dance through contemporary art moving from the 1960s up to our own time. At the same time Dancing with Myself is also a vibrant media crossover.

WATCH OUR "99 SECONDS OF:"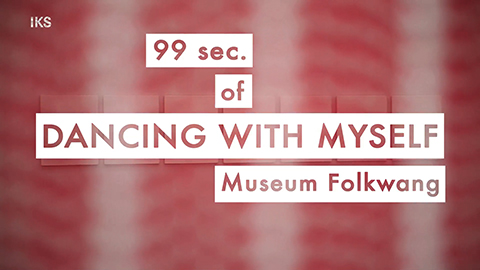 NEWS:
"BEHIND THE CURTAIN" AT MUSEUM KUNSTPALAST
Concealment and Revelation since the Renaissance. From Tizian to Christo
1 Oct. 2016 - 22 Jan. 2017
The fascinating interplay between concealing and showing, veiling and revealing using a curtain, veil or drapery is introduced in this themed exhibition, which is staged exclusively in Düsseldorf and shows important works from six centuries.
WATCH OUR "99 SECONDS OF:"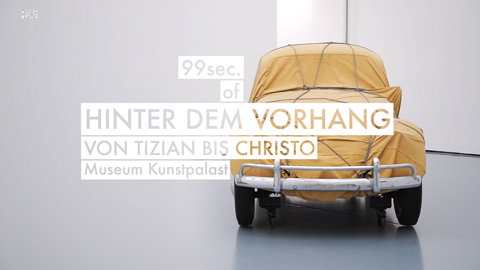 NEWS:
FROM DUERER TO VAN GOGH AT WALLRAF-RICHARTZ-MUSEUM COLOGNE
Bührle Collection meets Wallraf Collection
23 Sept 2016 - 29 Jan 2017
Two of the most important collections meeting each other at the Wallraf-Richartz-Museum in Cologne.
In November 1956, shortly before his unexpected death, the Zurich-based industrialist Emil Bührle recalled how his passion for collecting had arisen: 'Monet's magic would just not lose its hold on me, and I wanted to have Cézanne, Degas, Manet and Renoir around me all the time, on my walls.' Within a few years he had amassed an astonishing number of outstanding works of art from all major periods, from the Gothic to the Cubism. Impressionism remained his greatest love, however, and here his interests coincide with those of the Wallraf-Richartz-Museum. Both were at times competing for the finest paintings on the art market in the first half of the 1950s, and today, sixty years after Bührle's death, some 64 master­works from the two collections are entering into a unique dialogue at the Museum. Along with items by the artists named above the exhibition features works by Dürer, Cuyp, Canaletto, Delacroix, Courbet, Sisley, Pissarro, Gauguin, van Gogh, Picasso, Braque and others. The exhibition will be shown only in Cologne.
WATCH OUR "99 SECONDS OF:"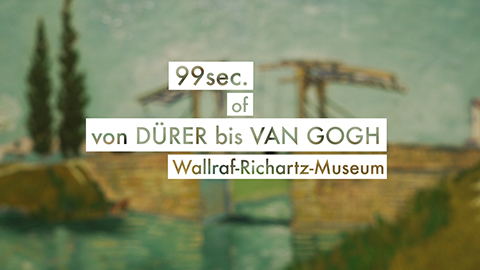 NEWS:
CLOUD & CRYSTAL AT K20 GRABBEPLATZ
The Dorothee and Konrad Fischer Collection
23 Sept 2016 - 8 Jan 2017
With the exhibition "Cloud & Crystal. The Dorothee and Konrad Fischer Collection" the Kunstsammlung Nordrhein-Westfalen celebrates the acquisition of the art collection formerly owned by the famous Düsseldorf gallerist couple Dorothee and Konrad Fischer. These works of Conceptual Art and Minimalism represent a decisive complement to the collection of US postwar painting already owned by the Kunstsammlung. Konrad Fischer emblematizes the international breakthrough of these advanced artistic tendencies like virtually no other figure. Beginning in the 1960s, his gallery became a meeting point for artists and collectors and catapulted Düsseldorf to the Mount Olympus of the contemporary avant-garde.
WATCH THE TRAILER!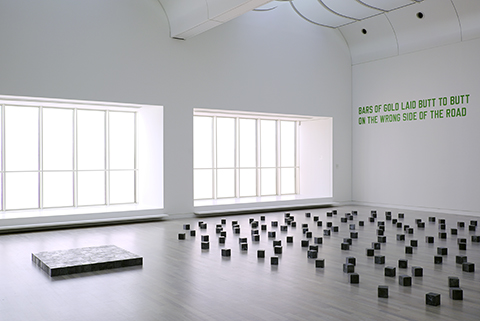 photo: Ralph Goertz © IKS 2016